Home
RECENTLY ADDED TOOLS & RESOURCES
Save the date! ALR2016 will be held January 31 - February 3, 2016 at the Hilton Clearwater Beach,...
OUR MISSION:
To translate and disseminate evidence to advocates, policy-makers and practitioners aimed at preventing childhood obesity and promoting active communities.
more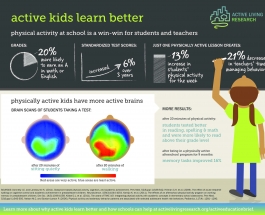 Infographic shows why physical activity is a win-win for students and teachers.
Our Disparities infographic is now translated into Spanish.