Growing Demand for Communities that Promote Health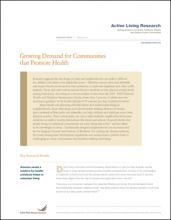 Summary:
The Challenge: The design of cities and neighborhoods can make it difficult for children and adults to be active. Creating walkable communities is an important strategy for promoting health and reducing risk for obesity, but many zoning laws, development regulations and transportation policies make it challenging to do so.
Make an Impact: Neighborhoods can be designed to promote active living. Learn more about the growing demand for traditionally designed neighborhoods, those with bicycle paths, sidewalks and shops and schools within walking distance of homes.
What the findings are about: This brief reviews research showing that traditionally designed neighborhoods help children and adults get more daily physical activity. It also presents survey results that show rising consumer demand for communities that promote health and the top reasons people want to live in them.
Key Findings and Recommendations:
People who live near shops and work places can walk or bicycle to work or take public transport. This not only helps them be physically active, it also cuts down on auto emissions and pollution.
Consumer support for traditionally designed communities is rising.
Americans believe traditionally designed neighborhoods offer many important benefits to children. This could be attributed to the close proximity of homes to schools, which allows children to walk and bike to school more easily.
Traditionally designed communities help seniors stay active and independent.
Suggested Citations:
Handy, S. Growing Demand for Communities that Promote Health. A Research Brief. Princeton, NJ: Active Living Research, a National Program of the Robert Wood Johnson Foundation. May 2009. Available from www.activelivingresearch.org.
RECENTLY ADDED TOOLS & RESOURCES
ALR2018 will be held February 11-14, 2018 at the Banff Centre for Arts and Creativity in Banff, Alberta, Canada.
...

Infographic detailing how local park and recreation agencies impact health and...
July 13, 2017

Park and Recreation Month focuses on the power of play.
July 11, 2017