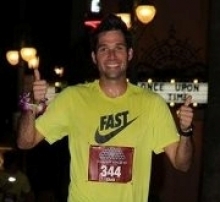 Chad Spoon, MRP is Communications & Partnership Manager for Active Living Research. In 2005, he received his master of regional planning degree with a specialization in transportation and land use management from the University of North Carolina at Chapel Hill. His interest in active living stems from his pedestrian and bicycle planning background. Chad offers ongoing technical assistance and training to over 100 grantees and assists with the translation and dissemination of grantee research results. He also manages the ALR accelerometer lending library, program website and annual ALR grantee survey. Chad provides a valuable connection to other programs and organizations within the planning and transportation discipline to promote ALR's work and look for potential new partnerships. Prior to joining Active Living Research, Chad worked with Active Living by Design in Chapel Hill, NC where he assisted with their community partnerships.
Why is physical activity important to me?
Physical activity is a large part of my life and something that I try hard not to miss. I love being outdoors and being active affords me the opportunity to enjoy all that San Diego has to offer - running, hiking, soccer, yoga, the beach, and of course the year-round, fantastic weather. I'm happy to say that I even met my wife while playing soccer and she is my primary partner in all of my phsical activities.