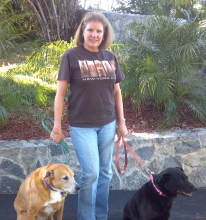 Debra Rubio is the Administrative Specialist for Active Living Research. She received her bachelor's degree from San Diego State University.  Prior to the program's transition to UCSD, she had been with San Diego State University Research Foundation for 15 years. Ms. Rubio supports the Active Living Research team with administrative and research functions.
Why is physical activity important to me?
Physical activity is important to me because being out in the fresh air energizes me.  I love working in the yard, digging in the dirt and mowing the grass.  Walking my dogs around the neighborhood or at dog beach is also great fun for the both of us.