Walking and Biking to School, Physical Activity and Health Outcomes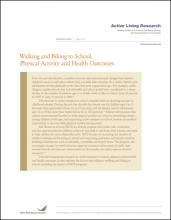 Author:
Tracy E. McMillan
Summary:
The Challenge: Over the past few decades, many social and environmental changes have limited children's access to safe places where they can walk, bike and play. As a result, kids are less active—and lack of physical activity is a major contributor to obesity.
Make an Impact: Policies that support walking and bicycling to school help increase daily physical activity among children.
What the findings are about: A summary of research about how walking and bicycling to school impacts kids' physical activity levels and health. This brief also explores the factors that influence walking and biking to school, including the impact of Safe Routes to School programs.
Key Findings and Recommendations:
Children who walk or bike to school are more active overall than children who get to school by car.
The most important factor in whether children walk or bike to school is how close children live to their school.
Building schools in the middle of neighborhoods would make them more accessible to children and may help encourage walking and biking among many students and families.
Programs like Safe Routes to School that include infrastructure changes and parent-child education can increase safe and active travel to school.
Neighborhoods that support walking, biking and physical activity promote active commuting among students.
Parental perceptions of traffic safety, personal safety and the importance of physical activity influence how likely it is that their children will walk or bike to school.
Suggested Citations:
McMillan TE. Walking and Biking to School, Physical Activity, and Health Outcomes. A Research Brief. Princeton, NJ: Active Living Research, a National Program of the Robert Wood Johnson Foundation. May 2009. Available from www.activelivingresearch.org.
RECENTLY ADDED TOOLS & RESOURCES
ALR2018 will be held February 11-14, 2018 at the Banff Centre for Arts and Creativity in Banff, Alberta, Canada.
...

Infographic detailing how local park and recreation agencies impact health and...
July 13, 2017

Park and Recreation Month focuses on the power of play.
July 11, 2017