Active Transportation: Making the Link from Transportation to Physical Activity and Obesity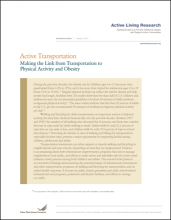 Author:
Daniel A. Rodriguez
Summary:
The Challenge: Regular physical activity promotes important health benefits and reduces risk for obesity, but many Americans live in communities that lack sidewalks, trails, bicycle paths and other infrastructure that support walking and bicycling.
Make an impact: Investments that support physical activity, like greenways, trails, sidewalks, traffic-calming devices and public transit, can create recreational opportunities, improve people's health and lower health care costs.
What the findings are about: This brief reviews research showing how infrastructure investments and other transportation programs can help children and adults get more regular physical activity.
Key Findings and Recommendations:
Walking or biking to school can help kids be more active overall.
Sidewalks, bike lanes, and public transit promote physical activity.
Multi-use trails can promote walking and bicycling, especially among women and people living in lower -income areas.
Federal, state and local policies and funding that support infrastructure investments can help promote physical activity among people of all ages. Safe Routes to School programs and the management of traffic in local neighborhoods and around schools can increase physical activity among children, adolescents and adults.
Suggested Citations:
Rodriguez D. Active Transportation: Making the Link from Transportation to Physical Activity and Obesity. A Research Brief. Princeton, NJ: Active Living Research, a National Program of the Robert Wood Johnson Foundation; Summer 2009. Available from: www.activelivingresearch.org.
RECENTLY ADDED TOOLS & RESOURCES
Research Briefs & Syntheses
Submit an abstract! ALR2016 will be held January 31 - February 3, 2016 at the Hilton Clearwater Beach,...

Infographic shows why physical activity is a win-win for students and teachers.
January 28, 2015