The Potential of Safe, Secure and Accessible Playgrounds to Increase Children's Physical Activity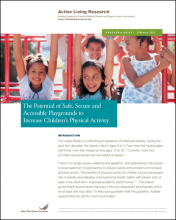 Summary:
The Challenge: Nearly one-third of children and teens, more than 23 million kids, are overweight or obese — and physical inactivity is a leading contributor to the epidemic. Playgrounds are one of the few places specifically intended for recreational use by children, yet many are not safe or easily accessible, especially in communities at high risk of obesity.
Make an impact: Safe and accessible playgrounds can support more physical activity, better health and greater social involvement for children, families and the community.
What the findings are about: This brief provides recommendations on locating and designing playgrounds so that they can better support children's physical activity.
Key Findings and Recommendations:
Proximity, safety (including levels of crime and potential for injuries), climate and time of day all influence how parks and playgrounds are used.
Policy makers and advocates can collaborate with schools to establish joint use agreements allowing playing fields, playgrounds and recreation centers to be used by community residents when schools are closed.
City planners and local officials can work to build and maintain parks and playgrounds that are safe and attractive for playing, and in close proximity to residential areas.
State officials should ensure that state child-care licensing agencies adopt regulations and guidelines that promote safe and adequate play spaces for child-care settings.
Suggested Citations:
Lopez R. The Potential of Safe, Secure and Accessible Playgrounds to Increase Children's Physical Activity. A Research Brief. Princeton, NJ: Active Living Research, a National Program of the Robert Wood Johnson Foundation; February 2011. Available from: www.activelivingresearch.org.
RECENTLY ADDED TOOLS & RESOURCES
Research Briefs & Syntheses
Submit an abstract! ALR2016 will be held January 31 - February 3, 2016 at the Hilton Clearwater Beach,...

Infographic shows why physical activity is a win-win for students and teachers.
January 28, 2015