Registration is open! The conference will be held March 9-12, 2014 in San Diego, CA.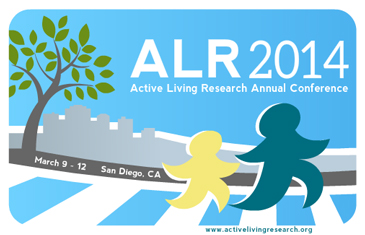 Conference Theme
The theme of the 2014 conference, "Niche to Norm," recognizes the importance of advancing active living from an emerging research field with limited results and impact to well-accepted findings that regularly guide decision-making across sectors to create more active communities.
Active Living Research is a new field of research, but it has been growing rapidly and having impact. Environmental and policy changes made to increase physical activity used to be rare, but they are increasingly more common. For example, Complete Streets ordinances have been adopted in hundreds of communities; thousands of schools are implementing evidence-based policies and programs to increase activity; and WalkScore helps home buyers and renters find walkable neighborhoods. At the 2014 ALR Conference we want to highlight efforts to take evidence-based interventions mainstream.
Research and Practice/Policy Focus Areas
Our aim is to make the ALR conference the premier venue for both cutting-edge research and for making findings accessible to and useable by non-scientists. Thus, the 2014 conference agenda will include both research and practice/policy presentations. The focus areas apply to both presentations and workshops. 
The goal of including two focus areas is to encourage a broad audience to attend the conference and provide more opportunities for exchange on how to use evidence to increase physical activity in many settings. It is anticipated that the conference program will be comprised of approximately 2/3 research-oriented and 1/3 practice/policy-oriented presentations, with some overlap. Instead of having separate sessions, research and practice/policy presentations will be integrated and organized by topic area. Our hope is that researchers will identify new policy-relevant research questions, practitioners and policy-makers will identify new research findings they can apply, and all attendees will develop new collaborations.
Registration
Conference Registration is open. Register by Jan 22nd to receive a discount.
Hotel Information
Information on how to make your hotel reservation is available on our Hotel Information page.
Conference Agenda
You can view the conference agenda by clicking on each day's agenda.
CURRENT NEWSLETTER
Date:
Sunday, March 9, 2014
to
Wednesday, March 12, 2014