Impact of Safe Routes to School Programs on Walking and Biking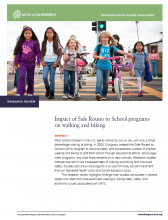 Author:
Noreen McDonald, PhD, University of North Carolina at Chapel Hill
Summary:
The Challenge: Most school children in the U.S. get to school by bus or car, with only a small percentage walking or biking.
Make an impact: Increasing walking, biking, and other modes of active school travel holds promise for reducing childhood obesity and improving health of children and adolescents.
What the findings are about: This research review highlights findings from studies conducted in several states and cities that have examined walking or biking rates, safety, and economic issues associated with Safe Routes to School (SRTS).
Key Findings and Recommendations:
Actively commuting to and from school could improve mental and physical health.
SRTS has increased the number of students who walk or bike to and from school.
Unsafe routes make it harder for students to walk or bike to and from school. SRTS has made it safer for students to walk or bike to or from school.
SRTS can lower health care and transportation costs for school districts and families.
Communities can take action on SRTS through subdivision regulations that require sidewalks, education facility plans that ensure access to school by foot and bicycle, school wellness policies that include Safe Routs to School, and capital improvement plans that prioritize engineering improvements near schools.
INFOGRAPHIC:
Findings presented in this research review are also available in the related Safe Routes to School Programs Work infographic.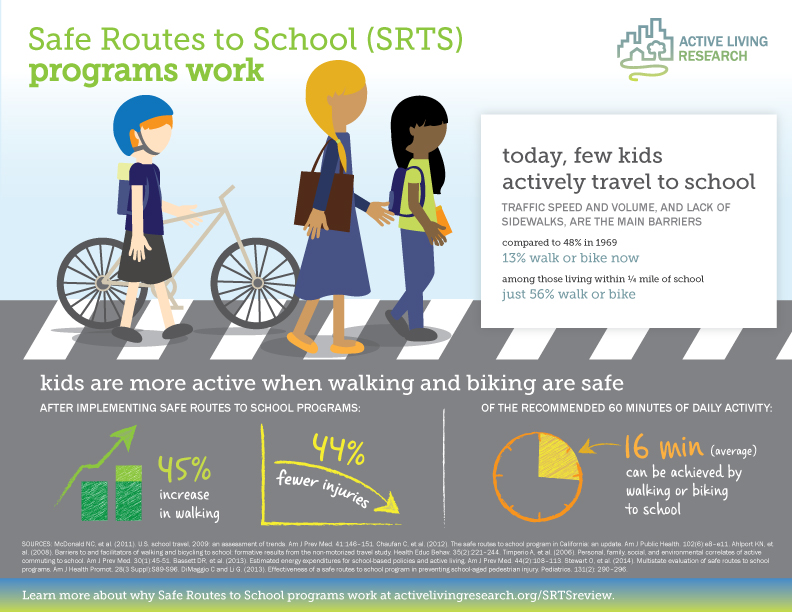 SUMMARY SLIDES:
Suggested Citations:
McDonald, N. Impact of Safe Routes to School Programs on Walking and Biking. San Diego, CA: Active Living Research; 2015. Available at www.activelivingresearch.org.
RECENTLY ADDED TOOLS & RESOURCES
Research Briefs & Syntheses
We are pleased to announce an exciting new alliance between Active Living Research and GP RED to co-host and coordinate...

The "Active Living Conference" aims to break down research and practice silos and...
August 14, 2018