Access to Transportation in Lower-Income Communities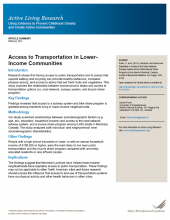 Author:
Daniel Fuller, University of Saskatchewan
Summary:
The Challenge: Few studies have examined potential disparities in access to transportation infrastructures, an important determinant of population health.
Make an impact: Having access to public transportation and to places that support walking and bicycling can promote healthy behaviors and increased physical activity.
What the findings are about: This study examined relationships between socio-demographic factors and access to the road network, subway system, and a bicycle share program in Montreal, Canada.
Key Findings and Recommendations:
Suggested Citations:
Fuller, D., et al. (2013). Individual- and Area-Level Disparities in Access to the Road Network, Subway System and a Public Bicycle Share Program on the Island of Montreal, Canada. Annals of Behavioral Medicine, 45(1Suppl): S95-S100.
RECENTLY ADDED TOOLS & RESOURCES
Research Briefs & Syntheses
We are pleased to announce an exciting new alliance between Active Living Research and GP RED to co-host and coordinate...

The "Active Living Conference" aims to break down research and practice silos and...
August 14, 2018