Action Plans for Play: Best Practices from Playful City USA Communities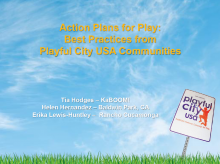 Author:
Erika Lewis-Huntley, M.P.A., City of Rancho Cucamonga, CA; Helen Hernandez, B.A., City of Baldwin Park, CA; Tia Hodges, B.A., KaBOOM!
Description:
Workshop at the 2012 Active Living Research Annual Conference.
Effective interventions begin with a comprehensive analysis of existing needs, followed by solutions that address those specific needs.  The Playful City USA program requires communities to conduct a needs assessment, develop action plans for play, and implement and evaluate those plans to increase and enhance communities' opportunities to play and engage in healthy living.  This workshop reviewed Best Practices in Play case studies from communities across California that are using innovative techniques to promote healthy living.  Participants had a chance to engage in breakout sessions with the workshop facilitators to learn how to adapt these best practices based on the needs and assets of their own community.
This workshop's panel of experts featured: 1) Rancho Cucamonga's Healthy RC Kids Partnership committed to developing policies, including land-use and vending policies, educational partnerships, and infrastructure improvements to facilitate opportunities for physical activity and ensure access to nutritious food. 2) City of Baldwin Park Recreation Department returns to its recreational roots through an assessment of existing resources, which prompted them to put all recreation resources into use, from park land to tug-o-war ropes. By using their recreation materials creatively, they increased participation in outdoor activities while creating a cycle in which more visible park use led to even greater participation at parks.
Learning Objectives:
Analyze successful case studies of communities in California and determine components that have positively impacted the health and well-being of its residents.
Identify existing assets (human, infrastructure, organizational, policy) in participants' communities as a first step toward developing creative partnerships to implement more comprehensive healthy living goals.
Identify and adapt the most relevant model for each participant's community.
RECENTLY ADDED TOOLS & RESOURCES
Research Briefs & Syntheses
We are pleased to announce an exciting new alliance between Active Living Research and GP RED to co-host and coordinate...

The "Active Living Conference" aims to break down research and practice silos and...
August 14, 2018