Active Living Research 101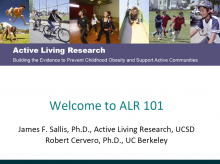 Author:
James F. Sallis, Ph.D., Director, Active Living Research; Robert Cervero, Ph.D., University of California, Berkeley
Description:
Workshop at the 2012 Active Living Research Annual Conference.
Active Living Research 101 was an optional presentation session for those who are new to the active living field. Speakers provided an overview of the ALR program, basics of physical activity and health, rationale for focus on childhood obesity, use of ecological models, principles of transdisciplinary research, and examples of findings from ALR studies. ALR's connection to the fields of planning, transportation, and parks and recreation were highlighted.
RECENTLY ADDED TOOLS & RESOURCES
Research Briefs & Syntheses
We are pleased to announce an exciting new alliance between Active Living Research and GP RED to co-host and coordinate...

The "Active Living Conference" aims to break down research and practice silos and...
August 14, 2018