Adaptation of the IPEN Project for Implementation in a Latin American Context: IPEN-MEXICO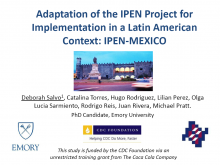 Author:
Deborah Salvo, BS, Catalina Torres, BS, Hugo Rodriguez, BS, Lilian Perez, MPH, Olga Lucia Sarmiento, PhD, MPH, Rodrigo Reis, PhD, MS, Juan Rivera, PhD, MS, & Michael Pratt, MPH, MD
Description:
Presentation at the 2012 Active Living Research Annual Conference.
Background
The International Physical Activity Environment Network (IPEN) study is one of the only research projects to address the influence of the built environment, and particularly of the walkability index, in different countries around the world. Mexico is one of the three Latin American countries where state of the art research in the built environment and physical activity arena is being conducted. Due to the cultural, structural and political differences of Mexico versus the US and Europe, where this study was designed, various adjustments had to take place. It is crucial to understand them to be able to conduct high quality research in Mexico and other Latin American settings.
Objectives
To describe the methodological, structural and practical adaptations necessary to implement the IPEN study in a Mexican setting (Cuernavaca, Morelos).
Methods
During the planning phase of the study (Jan-March 2011) a review of original IPEN protocol took place. Various themes within the project for which adaptations should take place were identified. A matrix was developed indicating these themes and their corresponding barriers (cultural, political, social or practical) for implementation of the original protocol. Alternative solutions compatible with the Mexican context were identified within the matrix, while conserving the methodological rigor to comply with the IPEN study. Data collection took place using the identified adjustments and the effectivity of them was assessed.
Results
Changes or additions to the IPEN protocol were identified and implemented within five themes.
Sampling Units: The primary sampling unit of the IPEN study refers to neighborhoods. Using neighborhoods resulted unfeasible and unpractical within the Mexican context due to limited data at this level, a very large variability in size and density within neighborhoods, and the fact that in Mexico neighborhoods are not well defined since they are not official geographical units within cities, lacking an official governmental administration, constituting a political difference between Mexico and other IPEN countries. Census tracts were used instead.
Logistics: In most countries the IPEN study is conducted using phone and/or mail recruitment and survey application. Due to cultural and socioeconomic differences, it was decided to conduct both recruitment and survey application in person. Phone and mail studies in Mexico have very low acceptance and compliance rates, and are very expensive in comparison to hiring professional field workers given low labor costs in the country, and an unreliable postal service.
Measurement instruments: The IPEN study uses the IPAQ (International Physical Activity Questionnaire) and NEWS (Neighborhood Environmental Walkability Scale). They were modified for cultural appropriateness, for in-person application and some sections were added to understand physical activity practice in various common settings within Latin America such as soccer fields, public squares and shopping malls (these adaptations were done in coordination with the IPEN research teams of Bogota, Colombia, and Curitiba, Brazil. An extra section to assess socioeconomic status was included, since the information provided by the government at a census tract level was insufficient.
Incentives: In Mexico and most Latin American countries, ethic boards do not allow cash as an incentive for participation. Other incentives such as providing individualized results to participants as a way of feedback become more important in these contexts. The use of vouchers (to use at local stores), gift cards and discount coupons instead of cash are an option, but are not allowed to exceed ten dollars per participant. For the IPEN Mexico study we used 8 dollar vouchers and provided participants with individualized results.
Partnerships and data access: It is particularly important to choose the right local partner in Mexico, not focusing only in the academic qualities but in the political leverage and support they can provide to obtain the data necessary for sampling and data collection. We partnered with INSP (National Institute of Public Health in Mexico), and with their support were able to obtain the necessary GIS layers (street layer, density, land use, parcel layer, etc.). In Mexico and many countries of the region, legally this information should be of public access, but in practice it is highly complicated to obtain without the support of a well-recognized and politically involved research institution. Data collection took place with the mentioned adaptations and was concluded within a 6 month period, collecting high quality reliable data from over 650 adult participants from the city of Cuernavaca.
Conclusions
Performing physical activity epidemiological research in Latin American countries such as Mexico is challenging. The IPEN study in Mexico has been successfully conducted relying on the various necessary adaptations, and should be used as a model for future studies, programs and policies addressing physical activity and the environment in the Latin American region.
Support/Funding
This study is funded by the CDC Foundation and supported by the IPEN Study of San Diego State University and INSP (National Institute of Public Health of Mexico).
RECENTLY ADDED TOOLS & RESOURCES
Research Briefs & Syntheses
We are pleased to announce an exciting new alliance between Active Living Research and GP RED to co-host and coordinate...

The "Active Living Conference" aims to break down research and practice silos and...
August 14, 2018