Assessing and Creating Policies to Support Physical Activity during Afterschool Time using the OSNAP Model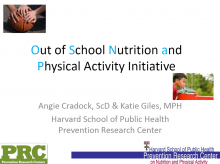 Author:
Angie Cradock, Sc.D., Harvard School of Public Health; Catherine Giles, M.P.H., Harvard School of Public Health
Description:
Workshop at the 2012 Active Living Research Annual Conference.
Out of school time (OST) settings are an important channel of intervention for children because they offer access to large numbers of students, they are key social environments for development of health-related behaviors and social norms, and they provide an important opportunity to improve nutrition, physical activity and screen time environments of children and youth. The Out of School Nutrition and Physical Activity (OSNAP) Initiative aims to implement low cost and sustainable policy and environmental interventions to improve physical activity and healthy eating/beverage environments. The OSNAP Initiative incorporates self-assessments at the practice and policy levels, as well as a variety of tools to help providers troubleshoot through barriers. The workshop focusd on how to use the OSNAP tools to examine and advocate for policy creation and communication in afterschool programs to promote physical activity. Example documents, policies and experiences from afterschool programs were used to facilitate discussions. Participants used the OSNAP tools (including a policy self-assessment, action planning tool and policy writing guide) to assess sample afterschool documents and created language to support improved physical activity offerings. Participants will be given samples of documents or may bring their own.
Learning Objectives:
Participants will be able to identify relevant policies/documents for supporting physical activity offerings in afterschool programs.
Participants will be able use OSNAP tools and materials to assess policies/documents for relevant language using the OSNAP policy assessment tool.
Participants will learn strategies for incorporating supportive policy language into existing documents and identify opportunities to create new policies to support physical activity in afterschool programs using OSNAP tools (Tip Sheets, Quick Guides and Policy Writing Guide).
RECENTLY ADDED TOOLS & RESOURCES
Research Briefs & Syntheses
We are pleased to announce an exciting new alliance between Active Living Research and GP RED to co-host and coordinate...

The "Active Living Conference" aims to break down research and practice silos and...
August 14, 2018