The Association of Walkability with Physical Activity at Baseline and 3-Year Follow Up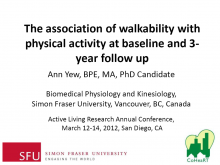 Author:
Ann Yew, BPE, MA and Scott A. Lear, PhD
Description:
Presentation at the 2012 Active Living Research Annual Conference.
Background
Physical inactivity is a risk factor for cardiovascular diseases, type 2 diabetes, and certain cancers. With rates of physical activity (PA) declining worldwide, finding ways to increase PA levels has become a leading public health challenge. Using an ecological approach, one way to influence PA behaviour is through the environment. Features within the built environment (BE - the physical environment built and/or modified by humans, including buildings, roads, parks, transportation systems) have been found to be linked to PA. This study examines walkability, the extent to which the BE encourages walking for recreational or utilitarian purposes.
Objectives
The purpose of this study was to examine the associations between walkability (using Walk Score) and PA. Associations between Walk Score and baseline PA were examined in a cross sectional context. A secondary purpose was to explore if these associations were related to PA at 3 year follow-up.
Methods
Participants were recruited by using advertisements in targeted community media (television, radio, print) and posters in community gathering areas. Part of the Multi-cultural Health Assessment Trial (M-CHAT), participants were healthy adult males and females between 30-65 years of age and of self-identified Aboriginal (n = 193), Chinese (n = 216), European (n = 197), and South Asian (n = 207) origin. This study was approved by the Simon Fraser University Research Ethics Board.
Sociodemographic factors were measured in person by questionnaire. Leisure time PA was assessed by the Modifiable Activity Questionnaire and expressed in minutes per week.  Walk Score was used to determine the walkability of a participant's neighbourhood environment based on walking distances to amenities from their inputted address. Walk Scores range from 0 - 100 with higher numbers associated with greater walkability. To calculate the score, amenities are categorized into 9 weighted categories depending on relative importance to walkability as defined by the literature (grocery, bar/restaurant, shopping, coffee, bank, parks, schools, books, entertainment). Only those amenities searchable within Google are included. Each category's score is then multiplied by a percentage proportional to the distances from the amenity to the home using a distance decay function. The new Street Smart version of Walk Score was used to take into account intersection density and average block length, measures of pedestrian friendliness. These measures penalize the score by up to 10% based on low intersection density and long block lengths.
Statistical Analysis
Analysis of variance was calculated to examine PA between quartiles of walkability (0-40, 41-64, 65-86, 87-100). Bivariate correlation analyses were performed to assess the relationship between baseline and 3-year follow up PA with Walk Score. Multiple regression analyses were then performed to examine the independent association of PA to Walk Score adjusting for age, sex, ethnicity, education, and income. Significance level was set at p < 0.05.
Results
Baseline PA (M = 343.9 min/wk, SD = 403.3) and Walk Score (M = 60.7, SD = 27.5) were significantly correlated (r = 0.097, p < 0.01), but the relationship was not significant for the 3-year follow up measure of PA (M = 289.0 min/wk, SD = 322.7, r = 0.097, p > 0.05).
Significant differences in baseline PA across quartiles of Walk Score were found with those in the lowest two quartiles reporting significantly less minutes per week of PA than those in the highest quartile (F(3, 778) = 5.673, p< 0.01). No significant differences were found at 3-year follow up (F(3, 577) = 0.858, p > 0.05). Chi-square tests of goodness-of-fit revealed that ethnicity, X2 (9, N = 813) = 112.8, p< 0.01, income X2 (9, N = 800) = 33.0, p< 0.01, and educational attainment X2 (15, N = 813) = 26.0, p< 0.05 were not equally distributed amongst the quartiles of Walk Score.
Multiple regression analyses revealed that Walk Score was significantly associated with baseline PA, after adjusting for age and sex (β = 1.726, 95% CI = 0.692 to 2.761). When ethnicity, education, and income were entered into the model the association was no longer significant (β = 0.884, 95% CI = -0.199 to 1.968). Walk Score was not significantly associated with PA at 3-year follow up (β = -0.249, 95% CI = -1.173 to 0.674).
Conclusions
Walk Score was associated with PA at baseline and in a cross-sectional analysis, however no significant associations were found at 3-year follow-up. Alongside the decreased PA levels from baseline to follow-up, these findings highlight the importance of considering the multi-faceted factors associated with PA behaviour change. For example, factors that promote increases in PA levels such as perceptions of the environment, different domains of PA, and social and cultural differences should be examined. Walk Score could be a helpful tool for promoting active lifestyles in policy and urban planning sectors. Further study of its association to changes in PA and sociodemographics variables is warranted.
Support/Funding
Canadian Institutes for Health Research.
RECENTLY ADDED TOOLS & RESOURCES
Research Briefs & Syntheses
We are pleased to announce an exciting new alliance between Active Living Research and GP RED to co-host and coordinate...

The "Active Living Conference" aims to break down research and practice silos and...
August 14, 2018