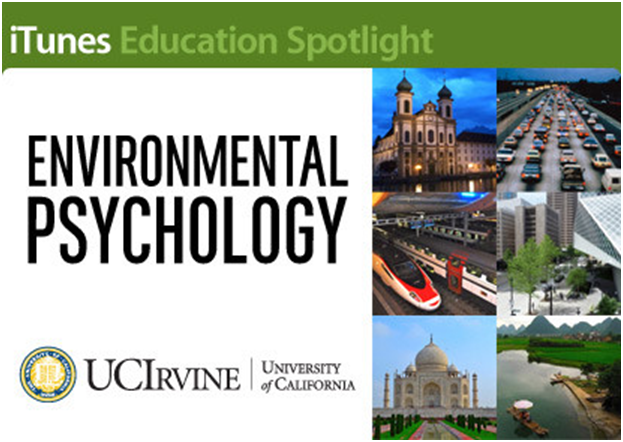 The field of environmental psychology examines people's interactions with their everyday socio-physical surroundings from a broad interdisciplinary perspective encompassing psychology, sociology, urban planning, landscape architecture, public policy and public health. A central concern of scholars and practitioners in environmental psychology is the translation of scientific research findings into guidelines for designing vibrant places that foster high levels of psychological and physical well-being by providing ample opportunities for social engagement and physically active lifestyles.
Among the topics covered in university course lectures are strategies for developing evidence-based design guidelines to enhance the walkability of urban and suburban neighborhoods, increase physical activity levels among community members, and reduce obesity in children, adolescents, and adults.
For many years now, courses on environmental psychology have been taught at the University of California, Irvine (UCI) by faculty members in UCI's School of Social Ecology. As of this summer, UCI's introductory overview course on Environmental Psychology, taught by Professor Daniel Stokols, is available to the public on iTunes U. The lecture videos, PowerPoint slides, and study guides from all class sessions are freely available and can be accessed by using the iTunes U app for mobile phones and iPad.
The course also can be accessed at the following web links:
http://itunes.apple.com/us/course/environmental-psychology/id529650093
http://itunes.apple.com/us/itunes-u/environmental-psychology-ppd151/id516983549
This course on iTunes U is intended to serve as a useful resource for colleagues and students working in the fields of environmental design, public policy, and active living research. The lecture videos, PowerPoint slides, and study guides may provide a useful supplement to students' curricula and training programs in environment-behavior studies offered at other universities.
I welcome your input and feedback about our Environmental Psychology course on iTunes U and hope that you will be it to be a useful resource.
Dan Stokols, Ph.D.
Chancellor's Professor
Department of Planning, Policy, and Design
School of Social Ecology
University of California , Irvine
dstokols@uci.edu