I had a great opportunity to help meet Active Living Research's goal of translating research to policy and practice throughout Oregon in October 2014. I was honored to be the speaker for the third annual Healthy Community Speaker Series. The primary sponsors were the Oregon Chapter of the American Planning Association, Transportation and Growth Management Agency, and Oregon Health Authority Health Promotion and Chronic Disease Prevention Section, and 1000 Friends of Oregon. There were additional local sponsors in each of the six cities I visited. This was a well-organized and heavily promoted tour, thanks largely to months of preparation led by Becky Steckler and Constance Beaumont.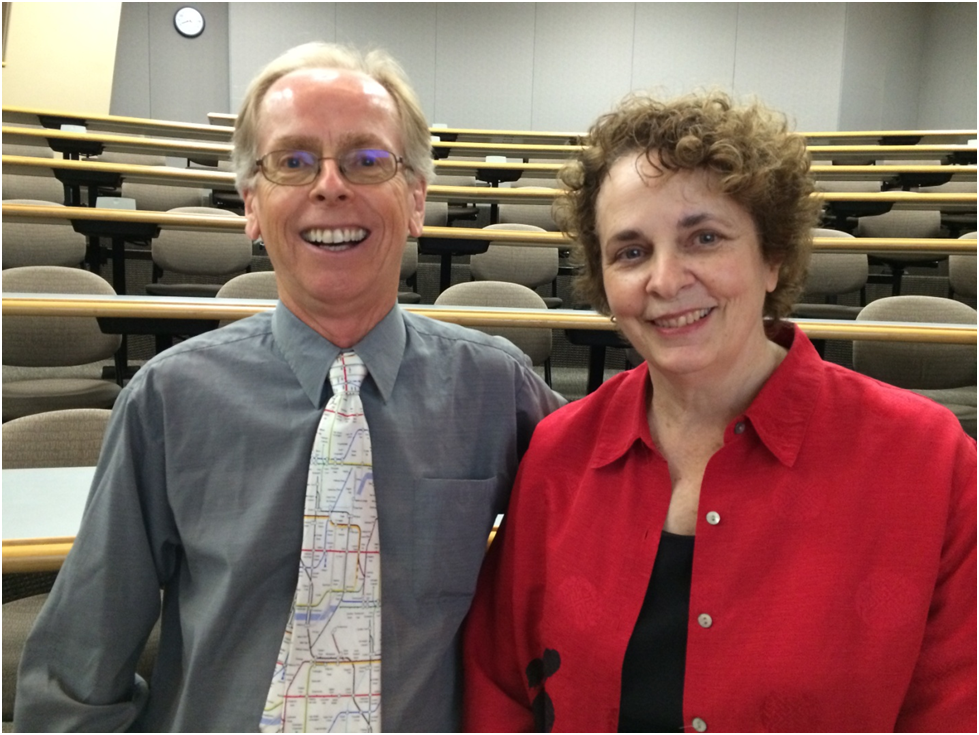 Constance Beaumont
Early October was unseasonably warm and unexpectedly dry in Western Oregon, and the perfect weather added to my enjoyment of the trip. The clear skies improved the quality of photos and the ease of the walking and bike tours that were integrated into the visit.
The goal of the speaking tour was to contribute to ongoing multi-sector efforts to improve built environments throughout Oregon to achieve health, environmental sustainability, and transportation goals. Oregon is known as a leader in urban planning, active transportation, and active recreation (Eugene is Track Town, USA), but they are striving to do even better. Like everywhere, there is much room for improvement. According to statewide surveys, about 60% of adults and 27% of eighth graders are overweight or obese, 44% of adults do not meet physical activity guidelines, and the percent of adolescents meeting physical activity guidelines decreased between 2005 and 2009. I was pleased to learn that Oregon's Department of Transportation and Health Authority have a Memorandum of Understanding that requires them to communicate and coordinate to achieve mutual goals.
In each of the four regions I visited (3 cities in the Portland region), I was impressed by the existing collaborations among professionals of numerous disciplines and the desire to create healthier communities. In each region I talked with professional groups and gave open public lectures. My objective was to communicate selected research and inform them of resources from ALR and Oregon groups that could help them be more effective in their jobs and advocacy. I also encouraged continued collaboration among all the relevant sectors. Virtually all the talks were well-attended by people with diverse backgrounds, and there was spirited discussion throughout the talks. My main themes were that active living communities require a pattern of many elements to have major effects, there are multiple benefits of designing for active living, and many cities and towns are succeeding in making changes.
There was a great turnout for the initial talk with professionals in Portland. It is humbling to come from San Diego and talk to folks in Portland about city design and active transportation, but my mission was to bring them solid research results they can use. It was great to see ALR grantee Jennifer Dill from Portland State University at the talk. Later that day I talked to a lively group in Tigard, which is a suburban community that has set a goal to become the most walkable city in the Northwest. Lo and behold, when I visited, their Main Street was in the midst of a makeover. They were narrowing the road, widening the sidewalks, planting street trees (and swails to catch rain water), and installing traffic circles. This work was being championed by a City Councilman who has a degree in Exercise Science! He led a tour of a well-developed trail and commented on the Main Street improvements. We assessed the new design with our MAPS Mini audit tool and found that it scored very highly. The last stop of the day was Beaverton. This public lecture was held in a beautiful transit-oriented development on the train line. The audiences at all these talks were well informed and engaged. The slides for my public talk are posted here.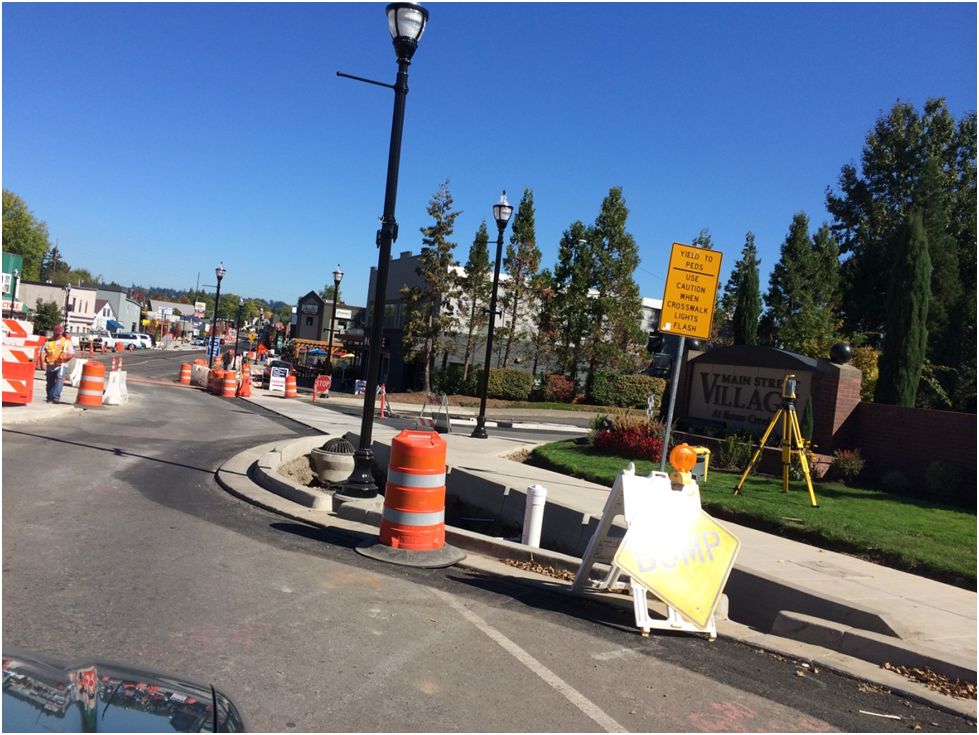 Main Street improvements in Tigard, OR.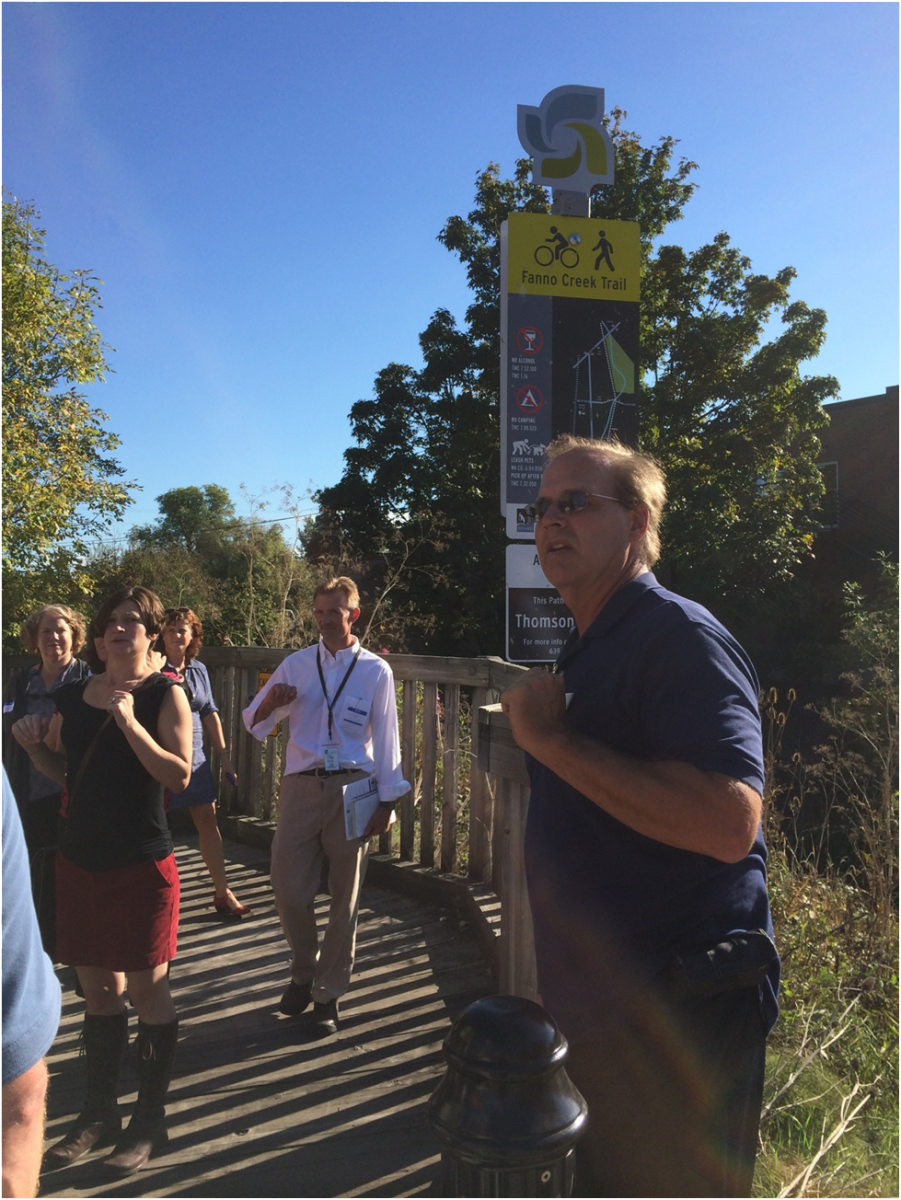 City Councilor leading a tour in Tigard, OR.
The next day I was in Salem, the state capitol, and the first talk with professionals was at the headquarters of the Oregon Department of Transportation. The audience was a good mix of transportation, planning, and public health experts. The evening talk drew a crowd to Willamette University, and I was pleased to see several students in attendance. Surprisingly, some of the students were in high school! They were interested enough in the affairs of their city to attend the talk, and one of them was determined to improve conditions for skateboarding as a means of active transportation. I was encouraged by the engagement of these students as well as the commitment of advocates who are working for better conditions for walking and biking. There was an excellent panel including an architect, a representative of the YMCA, and the City Manager who moderated the session.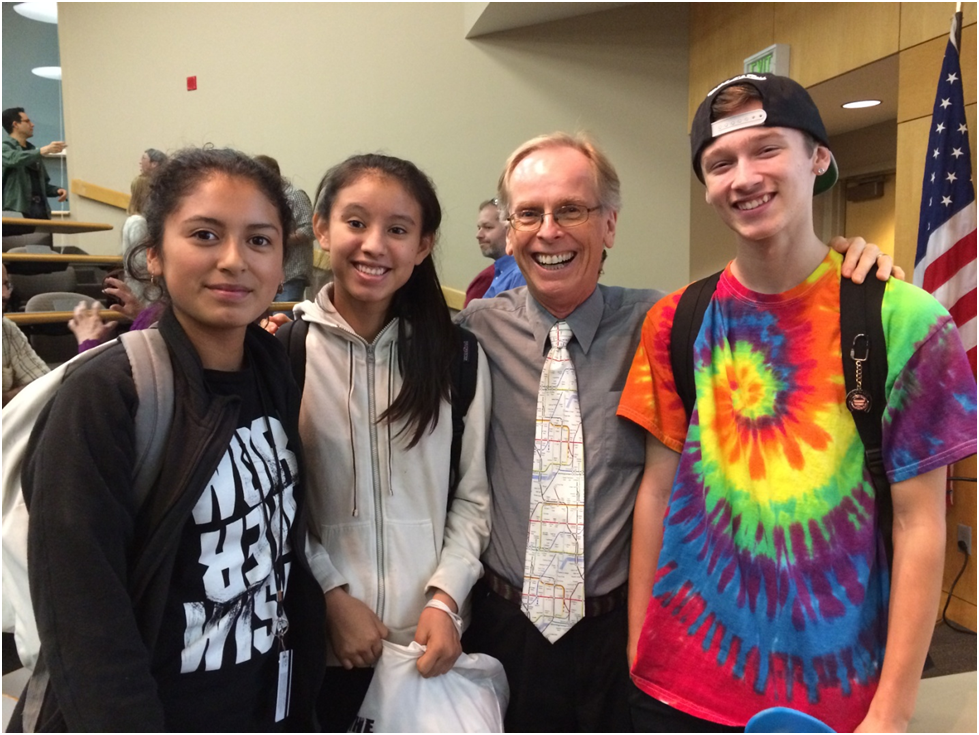 High school students attending the public lecture in Salem, OR.
Eugene is notable for the University of Oregon, many tree-lined streets, and one of the few Bus Rapid Transit systems in the USA. The talk with professionals was standing room only (I encouraged more standing), and all the professions relevant to active living were represented. We had a lively discussion, and I was impressed at the extent of cross-sector collaboration. A highlight for me was a bicycle tour of the city and the parks and extensive trail system along the river. We stopped at an all-weather skate park sheltered by a highway overpass and a shop where they make custom bicycles. The evening public lecture featured a great panel and more lively discussion about how to make Eugene a more wonderful city.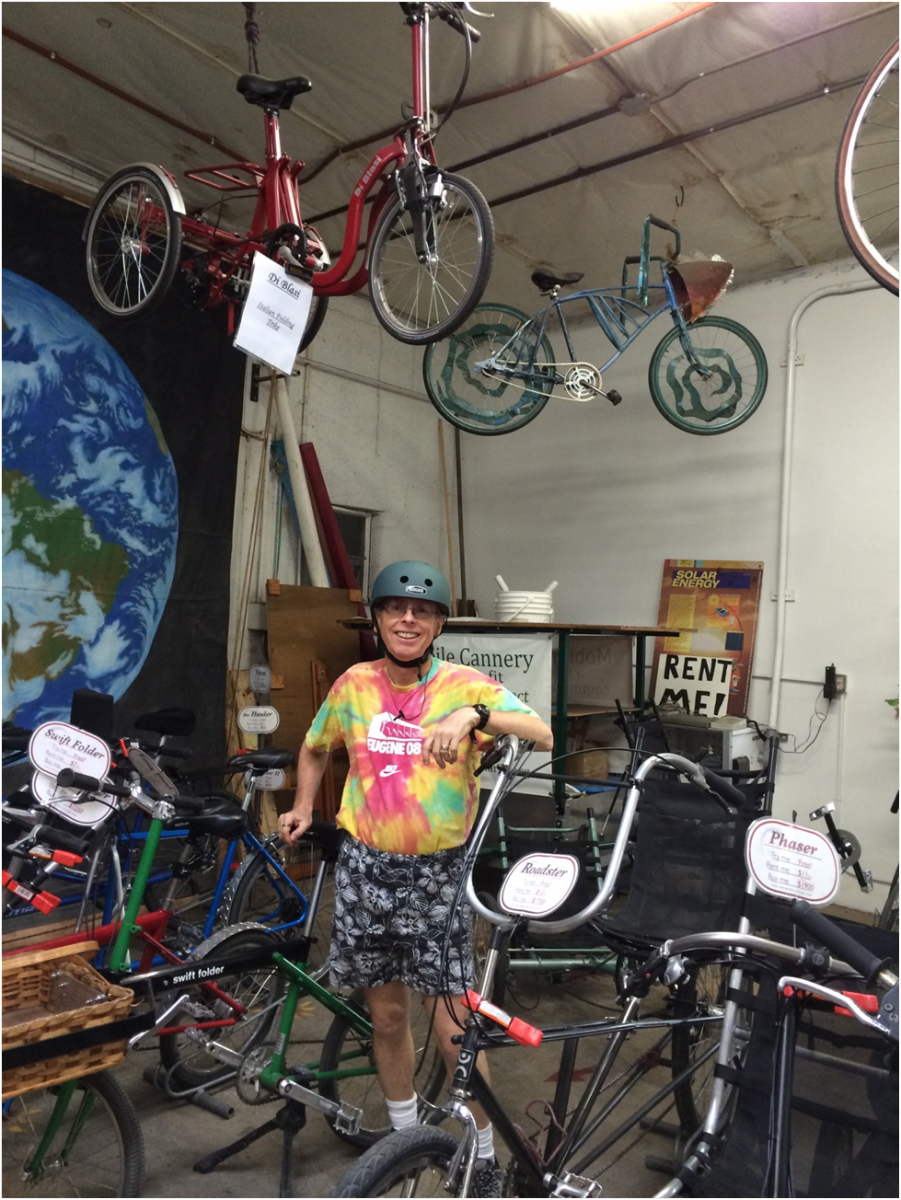 Custom bicycle shop in Eugene, OR.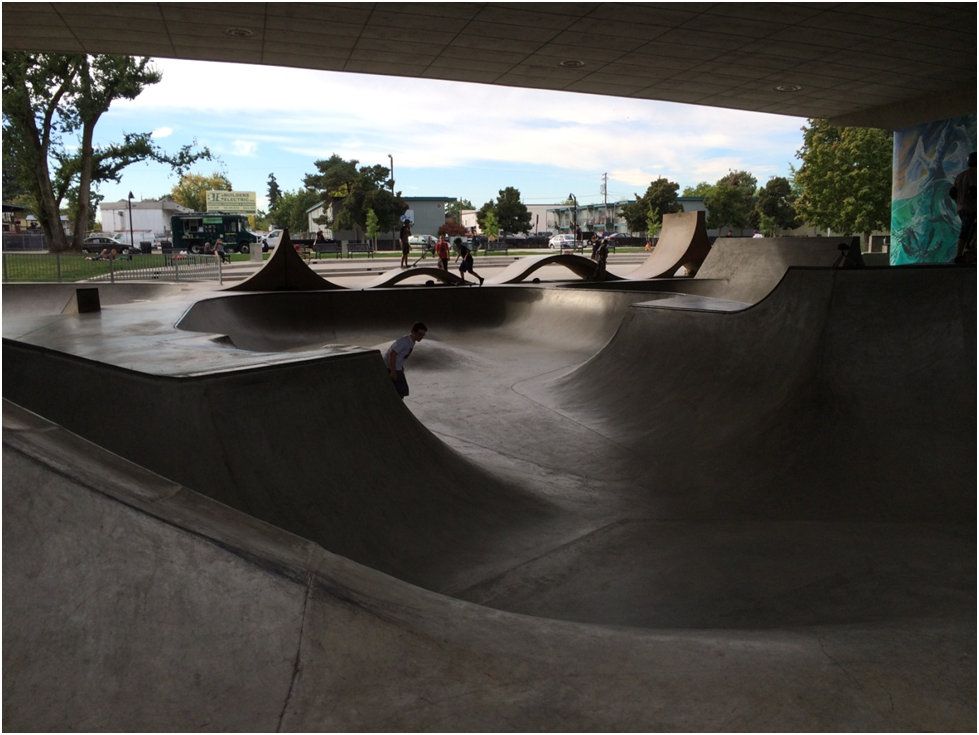 Skatepark shelered by a highway overpass in Eugene, OR.
The drive from Eugene to Bend over the Cascades was spectacular. I went the scenic route that went through miles of lava fields, which is not surprising considering all the Cascade Mountains are volcanoes. Bend is in the dry two-thirds of Oregon that few tourists visit. However, they have pristine water filtered by lava rocks that flow through the city in sparkling rivers. Bend has a spectacular park, a charming downtown, and many well-designed roundabouts. The professional talk was attended by many experts in active transport, city planning, and parks and recreation. I learned about a great bicycle education program in middle schools and a statewide competition to promote active travel. Again, the talk was attended by students, one of whom was a vocal advocate for attending to the needs of rural residents. The evening talk was held in the environmental center, so I made sure to emphasize that substituting walking and bicycling for car trips is the healthiest way to reduce carbon emissions from transportation. Driving electric cars reduces carbon but does not improve health. There was a celebrity guest at the evening lecture. Jerry Greenfield (of Ben Jerry's) was visiting an old friend--and serving ice cream. It was a treat to be served Cherry Garcia ice cream by Jerry. The people of Bend turned out in big numbers for the lecture, which turned into a freewheeling give-and-take that I hope inspired the attendees to be bold in their vision for a healthier Bend.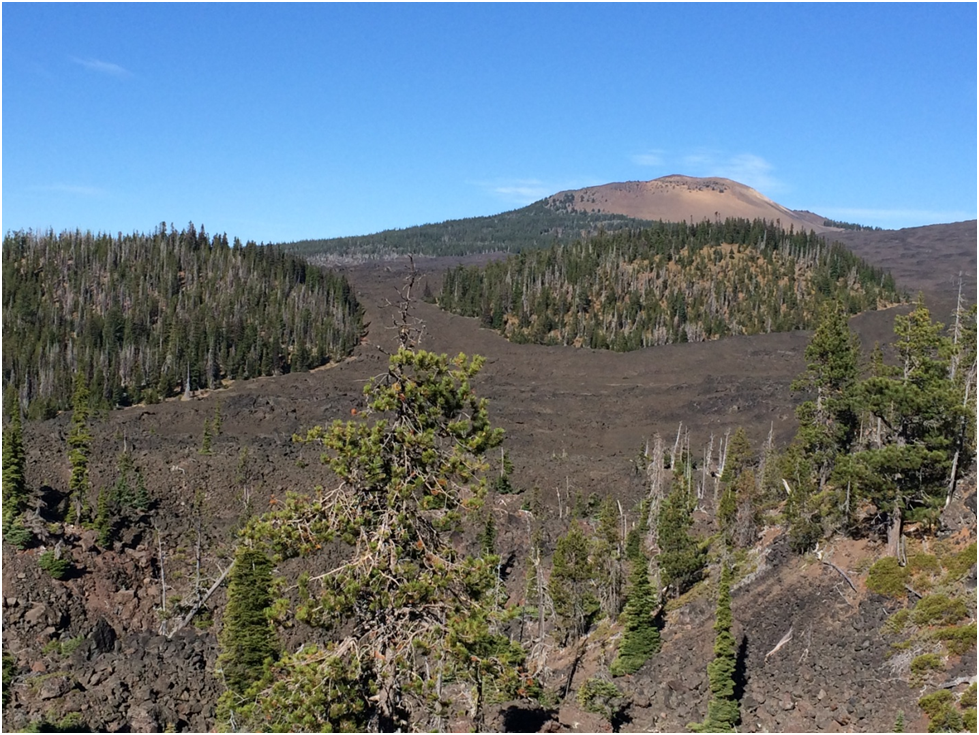 Lava fields between Eugene and Bend, OR.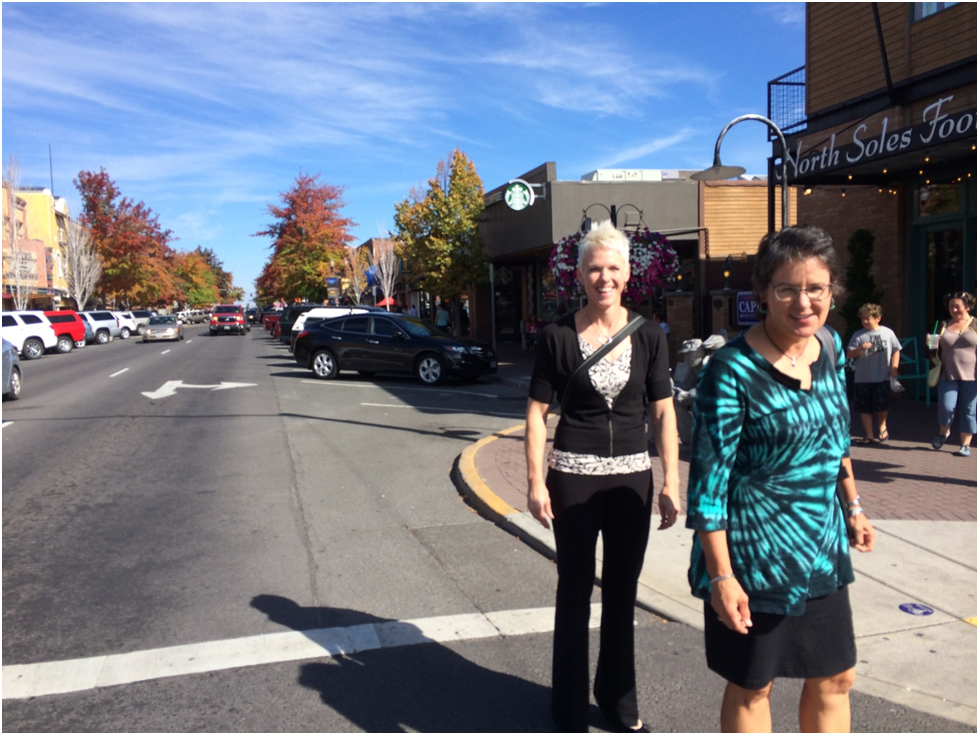 Kara and Karen are proud of the main street in Bend, OR.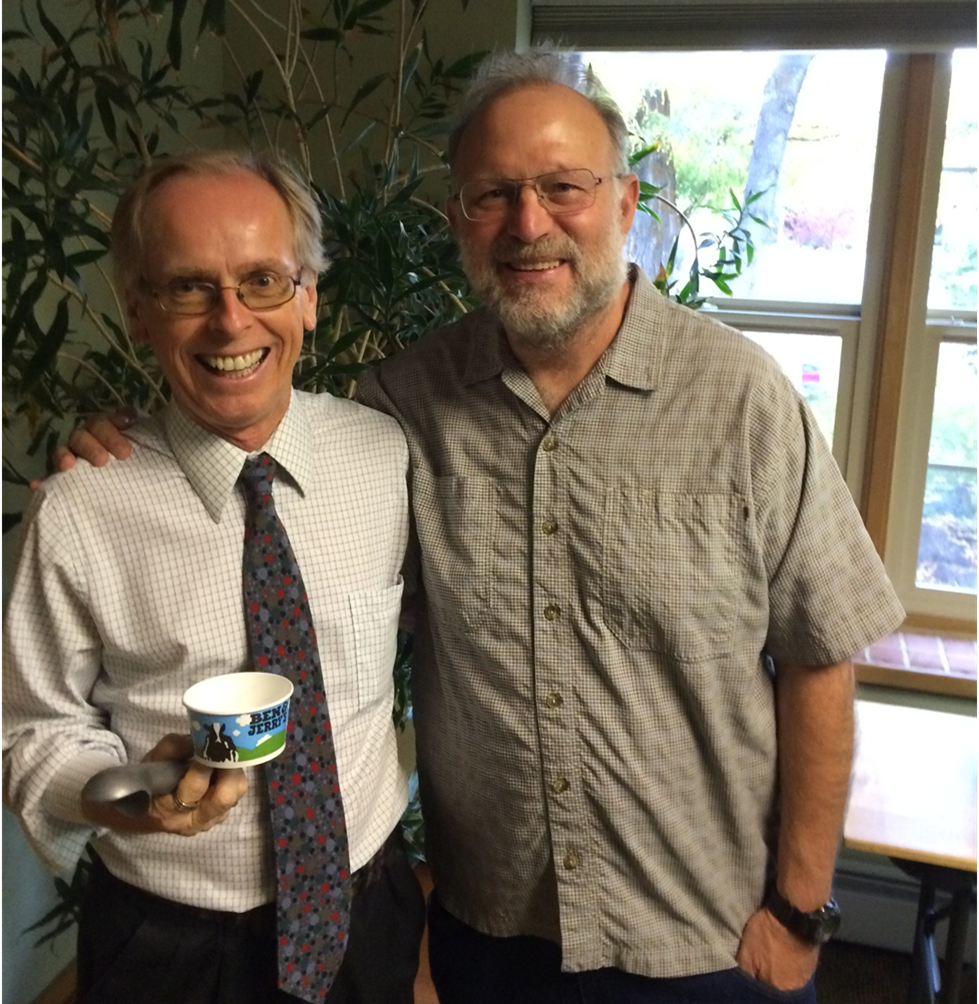 With Jerry Greenfield of Ben and Jerry's in Bend, OR.
At every stop I was impressed by the great work underway to create healthier communities, the ongoing meaningful collaborations across sectors, and the number of interested citizens, including young people. The Healthy Community Speakers tour is meant to build upon this ongoing work and provide information and tools to help local groups be successful in improving their communities. I am confident Oregon will continue to demonstrate leadership in healthy communities for the rest of the country. I am thankful to Becky, Constance, and the other organizers for this innovative tour. I was delighted to meet so many dedicated and effective advocates and professionals in the public and private sectors working hard to improve the health of their cities through better design. I made some great new friends, and I plan to go back and visit them in a few years and learn about their progress. If their cities are better for active living I will be able to see it with my own eyes.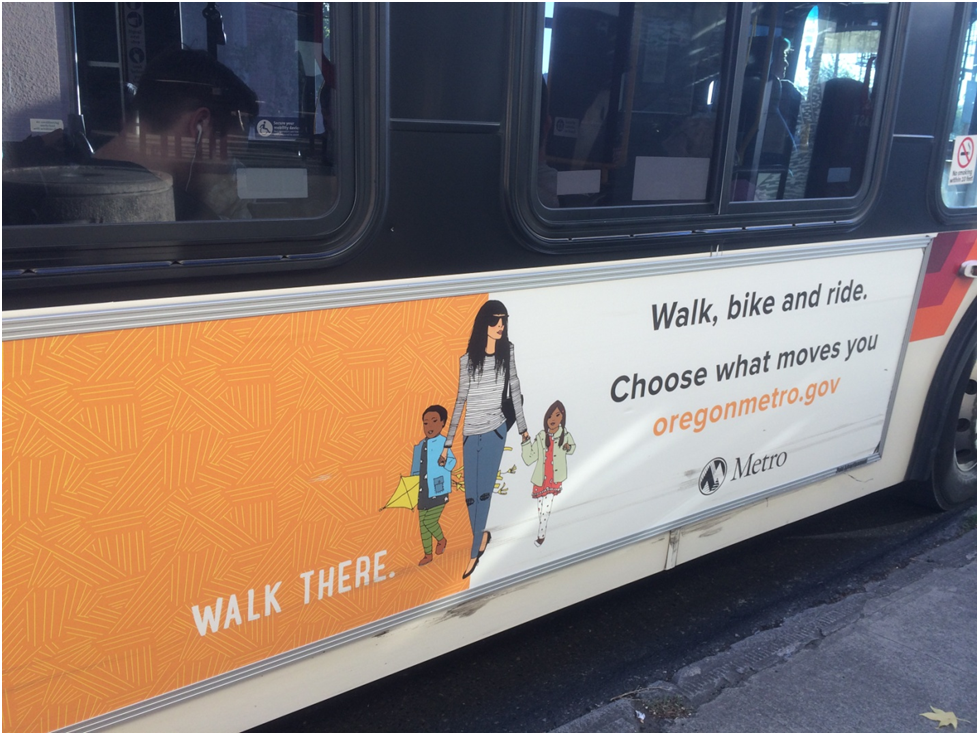 Promoting active transport in Portland, OR.