I recently told someone that I worked in the area of active living. Upon hearing that, the individual looked at me with a puzzled look, politely smiled, and said, "What's that?"
Here we go again…talk about frustrated! How could she not know about active living? I look forward to the day when everyone will know what we mean when we say active living. A day when active living is not considered a narrow area of inquiry and practice, but a familiar concept that we all understand and work towards.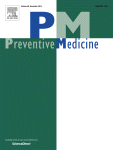 I was honored to serve as one of the guest editors for a recently published Special Issue of Preventive Medicine (Volume 69, Supplement, December 2014), which highlighted papers from the 2014 Active Living Research Conference, with the theme "Niche to Norm." This theme recognized the importance of advancing active living from an emerging research field with limited impact to well-accepted findings that guide everyday decision-making across various sectors to create more active communities. Click here for free access to all papers from the Supplement.
The Supplement includes some of the best studies from the 2014 ALR Conference presented as research papers, practice reports, and commentaries. Together these articles highlight the movement from niche to norm of active living in various sectors, with a focus on physical activity during school, after school and shared use, parks and recreation, and communities. These articles not only provide useful information, but also inspiration to make even better progress in moving active living from "niche to norm."
I invite you to join us as we continue to take active living from niche to norm in public health and advocacy organizations, among policymakers, and to a global stage. If you want to learn how communities across the U.S. and beyond are becoming more active and safe to foster physical activity, then read the Supplement. If you want to understand the many evidence-based strategies for physical activity promotion in schools and communities, then read the Supplement. If you want to know about policies and environments that support physical activity for children, adults, and vulnerable populations, then read the Supplement.
I know that we will successfully take active living from the periphery to the core, from the margins to the mainstream, from niche to norm. This Supplement gives us a good foundation upon which to build and I am grateful to all of the authors whose work is represented.
About the author
Dr. Keshia Pollack is an Associate Professor at the Johns Hopkins Bloomberg School of Public Health where she also serves as the Associate Director of the Johns Hopkins Center for Injury Research and Policy. Dr. Pollack also recently became Co-PI of the national CDC-supported Physical Activity Policy Research Network (PAPRN+). Dr. Pollack was the Chair of the 2014 ALR Conference and resides in Baltimore, MD.