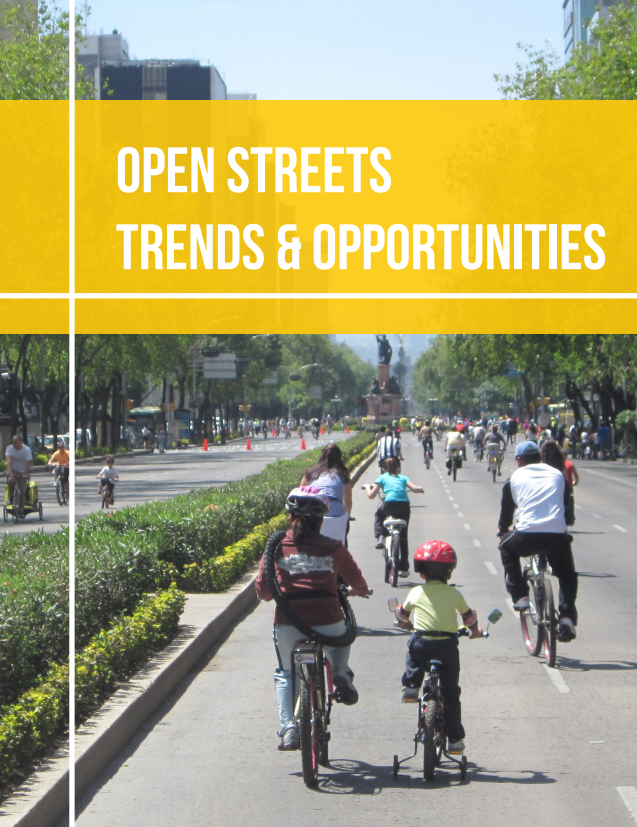 This blog post was originally posted by Alyssa Bird on the 8 80 Cities website.
Open Streets programs or Ciclovias are very city-specific things. We work tirelessly in our cities to get these programs off the ground – stealing lessons from other cities when we can but otherwise using our own relationships and talents to bring these programs to fruition. Yet, we know these programs are popping up all over the world.
Recently, we've decided that we must share more than just where Open Streets programs are located. By gathering the characteristics of these programs – route lengths, complementary programming, how success is measured, etc – we can start to build an evidence base for Healthiest Practice Open Streets programs.
How are we doing this? Well, it starts with surveys. For a special supplement of Preventive Medicine about Physical Activity in Public Space, 3 papers shared new academic findings about Open Streets programs in Latin America and the United States after surveying 36 American Open Streets programs and 6 programs in Latin America. The challenge with papers is they're not quickly digestible. But that's why 8 80 Cities is here.
We've summarized the findings of these papers into an easy to read Policy Brief: Open Streets Trends and Opportunities. The Policy Brief has great data and figures to help you make the case for Open Streets in your community. You can share it with an elected official, department head, pull out pieces and stick them into a presentation for committees and key stakeholders or just read it and be more informed about what's happening in the Open Streets world.
To read the full Policy Brief click here. The Policy Brief is also available in Spanish.
But our work isn't done yet. We need to continue to evaluate and share the lessons we learn from individual Open Streets programs. If you're hosting an Open Streets or Ciclovia in your city, be sure you're collecting information about the impact of your program. What you learn can help your program improve and help so many others maximize their impact.