Built Environment Strategies for Cancer Control in Indiana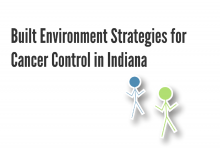 Author:
Emily Jones, BS, Caleb Levell, BA, & Zia Brucaya, MS
Description:
Presentation at the 2014 Active Living Research Annual Conference.
Background and Purpose
Cancer is the second leading cause of death in Indiana, killing approximately 12,000 Hoosiers annually. According to the American Cancer Society, more than half of all cancer deaths could be prevented by making healthy choices like being physically active and staying at a healthy weight. Unfortunately, 30 percent of Indiana adults are obese and 40 percent do not meet recommended physical activity guidelines (1). Given the burden of cancer, state cancer control programs and partner organizations are in a unique position to implement policy, systems, and environmental (PSE) change strategies to impact the burden of cancer. Complete streets policy adoption and implementation promotes physical activity, impacts disparities and benefits whole communities.
The Cancer Control Section (CAS) at the Indiana State Department of Health receives funding to prevent and control cancer in Indiana. The Indiana Cancer Consortium (ICC) functions as the state's vehicle for cancer control by educating on and advocating for a state-led policy agenda, which includes increasing the number of Complete Streets policies. The CAS and ICC work in tandem with the Indiana Complete Streets Coalition (ICSC) to implement and align shared objectives and activities. The CAS, ICC and ICSC support one another by advocating for Complete Streets infrastructure to make healthy choices the easy choice.
Since 2009, Indiana has adopted ten Complete Streets policies that cover over 2 million Hoosiers (37% of the population). Indianapolis now boasts the strongest Complete Streets ordinance in the nation (2) and the ICC's communications strategy, which included social media, earned media, and a unique Complete Streets infographic (See Figure 1), was vital to garner public and legislative support throughout the three-year policy advocacy process. Due to ongoing efforts of the ICSC, several more Indiana communities are drafting and considering Complete Streets policies.
Description
One-quarter to one-third of new cancer cases expected to occur in 2013 in the United States will be related to overweight or obesity, physical inactivity and poor nutrition, and could be prevented (3). Although healthy choices are made by individuals, they may be facilitated or impeded by the social, physical, economic and regulatory environment in which people work, live and play. Research shows people living in walkable neighborhoods completed 35-45 more minutes of physical activity weekly and were substantially less likely to be overweight or obese than people living in low-walkable neighborhoods (4). Unfortunately, Indiana communities are not consistently walkable or bikeable, contributing to declining health and over-dependence on driving. Thirty extra minutes in a car is linked with a three percent increased risk of obesity (5).  With the growing evidence-base linking health and transportation, built environment solutions that promote active transportation are a priority.
Lessons Learned
A need exists to establish standardized methodologies for capturing physical activity rates before, during and after Complete Streets policy implementation. Indianapolis now conducts bicycle and pedestrian counts bi-annually using a nationally-recognized methodology, and posts results online to promote transparency and public engagement. More Hoosier communities must track performance measures to demonstrate the impact of Completes Streets policies on active transportation and to support long-term evaluation and research efforts.
Conclusions and Implications
Complete Streets policies support equitable treatment regardless of age, gender, race/ethnicity or ability. They improve active transportation opportunities in traditionally under-served, low-income neighborhoods and ensure that vulnerable populations are not disproportionately disadvantaged by car-oriented development. Complete Streets policies also benefit Safe Routes to School by turning all routes into safe routes. As more Hoosiers gain access to Complete Streets, active transportation opportunities increase, benefitting Indiana's comprehensive cancer control efforts.
Next Steps
Complete Streets policy implementation and program evaluation is necessary to sustain funding and statewide support. To yield research and evaluation results, CAS, ICC and ICSC are partnering with researchers to measure communities' progress where Complete Streets are happening. Adult and adolescent physical activity, overweight and obesity and cancer-related rates and trends will be measured and examined prospectively. Results will be effectively communicated to key stakeholders supporting PSE strategies to prevent and control cancer in Indiana.
References
Indiana Cancer Facts and Figures, 2012.
National Complete Streets Coalition. (2013). "The Best Complete Streets Policies of 2012."
World Cancer Research Fund. www.wcrf.org
Sallis, James F. et al (2009). "Neighborhood built  environment and income: Examining multiple health outcomes." Social Science and Medicine 68:1285-1293.
Frank, L., Andresen, M., & Schmid, T. (2004). Obesity relationships with community design, physical activity, and time spend in cars. American Journal of Preventive Medicine 27(2) 87-96
Support / Funding Source
Funding was made possible (in part) by the cooperative agreement award U55DP003020 from the Centers for Disease Control and Prevention.
RECENTLY ADDED TOOLS & RESOURCES
Research Briefs & Syntheses
We are pleased to announce an exciting new alliance between Active Living Research and GP RED to co-host and coordinate...

The "Active Living Conference" aims to break down research and practice silos and...
August 14, 2018