The Chicago Plays! Initiative: Evaluation of a Natural Experiment to Increase Park Use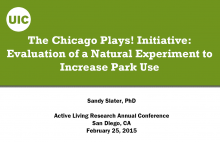 Author:
Sandy Slater, PhD, University of Illinois at Chicago
Description:
Presentation at the 2015 Active Living Research Annual Conference.
Background
A needs assessment of all Chicago parks, conducted in 2009 through 2011, identified 300 playgrounds in need of repair. Using Chicago Park District (CPD) earmarked capital improvement funds, the Chicago Plays! Initiative was created to renovate these 300 playgrounds over the next five years and enhance safety and accessibility for all Chicago residents. The CPD and Friends of the Parks (FOTP), a local nonprofit organization, developed a competitive application process where community groups (e.g., park advisory councils, block and church groups): 1) nominated playgrounds to be renovated in Year 1 of the program and 2) proposed plans for ongoing playground maintenance. The process was meant to empower residents living in intervention areas (i.e., those receiving first stage renovated playgrounds) to improve their neighborhoods and health by increasing park utilization and PA for children and their families. Just over 100 of 300 possible applications were received, and 50 of those parks were selected for first stage (Year 1) renovation. This new initiative, using community engagement to enhance playground renovations, provides a rare opportunity to evaluate a timely natural experiment.
Objectives
In a sample of racially, ethnically, and socioeconomically diverse neighborhoods, and using a quasi-experimental prospective longitudinal study design, we examined whether involvement of community groups influences park-based utilization and physical activity (PA) post-playground renovations (N=74 matched parks, 37 intervention and 37 control). We hypothesize that compared to playground renovation alone, sites with playground renovation plus community engagement will have increased park-based utilization and PA through positive effects on park programming, ongoing maintenance, and safety.
Methods
In summer/fall 2013 and 2014 baseline and 12 month follow up data were collected on park-based utilization and PA, presence and condition of existing playground equipment, presence of physical disorder, park programming, and park and neighborhood-based crime data. Field staff collected baseline park-based utilization and PA data (one weekday and one Saturday with 4 scans per day)  in 37 intervention and 37 matched control parks; 12-month follow up data collection includes 3 days of observation (2 weekdays and one Saturday with 4 scans per day).  Field staff also conducted playground environmental observations pre- and post-playground renovation, and took photographs of the equipment for future reference. Observation instruments were used to audit the presence and condition of the playground and all other park features and amenities.   Analyses of both the number of people in parks and the number of people in parks engaged in PA as determined by direct observations will be conducted using a mixed-effects linear regression model.
Results
Preliminary results of baseline data showed Of the 74 parks in the sample, nearly all parks (n=68) had posted signage regarding park rules and hours of operations, but only half (n=34) of the playgrounds observed had lighting present. Across the 74 parks, field staff observed a total of 5,592 visitors across the two days of observations. The majority of visitors (59%) were sedentary, with 23 and 18 percent observed engaging in moderate and vigorous activities respectively. Both control and intervention sites are subject to the same historical trends, thus we will be able to detect changes due to playground renovations prospectively even without having additional historical baseline measurements. Citywide crime data for the 12 months leading up to and including our park observation dates have been collected. During the 12-month period, a total of 304,276 reported crimes occurred in Chicago. Preliminary analyses show, over the past 12 months, 15 percent of all park-based crimes occurred in our sample of parks, which represent 13 percent of all CPD parks. The most commonly reported park-based crimes were drug, assault, battery, and theft-related crimes. Preliminary analyses also show approximately 40,000, or 13 percent of reported crimes occurred in the ¼ mile park buffers over the past 12 months. The most commonly reported street crimes were theft, vandalism, assault, battery, disorderly conduct, and prostitution-related crimes. Park program data for the past year is currently being compiled for analysis, but since January 2013 there were a total of 2,586 programs (e.g., team-based sports) or events (e.g., movie night) offered across the 74 parks with approximately 45,000 community participants across all ages (children, adolescents, adults and seniors). Programs and events are a mix of sedentary (e.g., sewing, arts and crafts) and active (e.g., basketball, gymnastics, swimming) activities. Following baseline data collection schedules, field staff is currently collecting 12-month follow up data this summer and fall.
Conclusions
Results of changes in park utilization, park-based PA, programming, maintenance and safety between baseline and 12-month follow up will be presented.
Implications
With recent evidence showing physical inactivity, and not diet, as the primary driver in obesity prevalence communities need rigorous scientific evidence to inform future policy decisions on how to increase park utilization in diverse neighborhoods.
Support / Funding Source
UIC Institute for Public and Civic Engagement
RECENTLY ADDED TOOLS & RESOURCES
Research Briefs & Syntheses
We are pleased to announce an exciting new alliance between Active Living Research and GP RED to co-host and coordinate...

The "Active Living Conference" aims to break down research and practice silos and...
August 14, 2018