Contribution of Neighborhood SES and Physical Activity Resource Quality to Changes in Physical Activity in Minority Women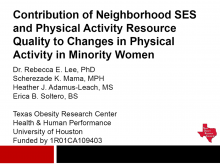 Author:
Rebecca Lee, PhD, Scherezade Mama, MPH, Heather Adamus, MS, Erica Soltero, BS
Description:
Presentation at the 2012 Active Living Research Annual Conference. 
Background
Residence in lower socioeconomic status (SES) neighborhoods has been associated with lower rates of physical activity, but few studies have investigated this relationship longitudinally. Some data suggest that access to high quality neighborhood physical activity resources (e.g., parks, trails, community centers, schools) may buffer some of the detrimental effects of low income neighborhoods, helping people to maintain physical activity over time.
Objectives
This study investigated the relationship of SES and access to quality physical activity resources to physical activity among African American and Hispanic or Latino women over time.
Methods
Individual data were drawn from the Health Is Power project that aimed to increase physical activity among community dwelling, healthy African American (AA) and Hispanic or Latina women. Women (N=185, M=44.3 years, SD=11.0, 85% AA) who completed interviewer administered questionnaires assessing demographics and the International Physical Activity Questionnaire (IPAQ) at time 1 (T1) and six months later at time 2 (T2). A subsample (n=62) completed accelerometer assessments using a 7 day standardized protocol to measure moderate or vigorous physical activity (MVPA). Women in the subgroup did not differ significantly from the total on any variables; except, women who completed accelerometer measures reported less vigorous physical activity (M=2.5, SD=3.0) on the IPAQ compared to those who did not (M=3.6, SD=3.1, t(181) = 2.26, p<.05). Physical activity data were transformed for analyses using an exponential transformation. Neighborhoods of the women living in Houston and Austin, TX were classified as low or high SES based on aggregated census tract information for median household income. All physical activity resources in all neighborhoods were audited on dimensions of presence and quality of physical activity features and resource amenities, and overall incivilities using the Physical Activity Resource Assessment© (PARA). Access to quality physical activity resources was determined by a composite index based on a sum score of feature and amenity ratings, minus incivility ratings. Indices were aggregated for all physical activity resources in each neighborhood to determine an overall access to quality physical activity resources (QPAR) index. In order to investigate interaction effects, neighborhood income and QPAR scores were dichotomized using a median split. Repeated measures analyses were used to examine changes in physical activity by neighborhood income (low versus high) and QPAR (low versus high) groups, adjusting for individual income, age and ethnicity.
Results
Women reported increased total physical activity from T1 (M=2563.5, SD=3976.9) to T2 (M=3015.5, SD=2900.6, t(172)= -4.858, p=.000), along with physical activity done for work, (T1 M=877.0, SD=2547.0 to T2 M=1168.0, SD=2005.56, t(172)= -3.650, p=.000), transportation (T1, M=275.1, SD=1127.2 to T2 M=302.6, SD=609.2, t(172)= -4.028, p=.000), and leisure (T1 M=298.2, SD=599.9 to T2 M=724.5, SD=977.4), t(172)= -6.702, p =.000, and, walking (T1, M =794. 7, SD=2006.7 to T2 M =897.3, SD=1052.8), t(172)=-5.328, p =.000), moderate (T1, M=1293.5, SD=1744.1 to T2 M=1319.1, SD=1522.9, t(172)= -3.688, p =.000), and vigorous physical activity (T1, M=411.6, SD=1648.2 to T2 M=896.6, SD=1599.5, t(172)= -5.110, p =.000), but not home or garden related physical activity (T1, M=1049.4, SD=1508.8 to T2 M =918.0, SD=1371.3, p>.05). Women showed no significant change in MVPA from T1 (M=20.2, SD=21.7) to T2 (M=19.0, SD=17.7, p>.05). Neighborhood household income ranged from $13,421 to $119,260 (Med= $37,739 , M=$40,587, SD=$17,189). The number of physical activity resources per neighborhood ranged from 0-17 (M=3.79, SD=2.6). Pearson correlation coefficients showed physical activity resource features, amenities and incivilities were significantly associated (ps<.05), leading to the creation of the QPAR index. QPAR neighborhood scores ranged from -3 to 66 (Med=15, M=16.5, SD=9.7). After adjusting for individual SES, age, ethnicity, repeated measures analyses of variance demonstrated a significant interaction between time and QPAR (F(1,57)=8.108, p=.006). Regardless of neighborhood income, women who lived in neighborhoods with low QPARs demonstrated a decrease in MVPA from T1 (M=22.4, SD=26.7) to T2 (M=15.4, SD=15.8), while those with high QPARs demonstrated an increase in MVPA from T1 (M=18.1, SD=15.7) to T2 (M=22.3, SD=18.9). Neighborhood income and QPAR indices were not significantly associated with change in any of the self-reported IPAQ variables.
Conclusions
Despite a larger sample size and more power to detect effects, neighborhood factors were not related to changes in self-reported physical activity; however, access to quality physical activity resources significantly impacted objectively measured physical activity, regardless of neighborhood income. This calls into question the validity of self-reported physical activity and suggests that physical activities that are measured by self reports may not be related to neighborhood factors. Regardless, results suggest an independently beneficial effect of higher quality physical activity resources, after accounting for neighborhood SES, on objectively measured physical activity in ethnic minority women. Even for women residing in lower socioeconomic areas, having access to higher quality physical activity resources may help increase or maintain physical activity over time. Policy makers, planners and community activists should strive to increase and maintain high quality physical activity resources in all neighborhoods.
Support/Funding
NIH-NCI (1R01CA109403)
RECENTLY ADDED TOOLS & RESOURCES
Research Briefs & Syntheses
We are pleased to announce an exciting new alliance between Active Living Research and GP RED to co-host and coordinate...

The "Active Living Conference" aims to break down research and practice silos and...
August 14, 2018