Distance and Wayfinding Signage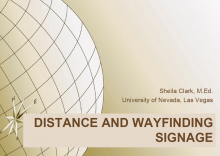 Author:
Sheila Clark, MEd, Timothy Bungum, DrPH, Mindy Meacham, CHES, & Lisa Coker, MPH
Description:
Presentation at the 2014 Active Living Research Annual Conference.
Background and Purpose
The purpose of this study was to assess the effect of distance markings and the long term effect of a promotional media campaign on urban trail traffic in Southern Nevada.
Description
As noted in the literature, promotional campaigns may increase trail usage. Our previous study indicated that trail traffic on 10 urban trails increased significantly shortly after a campaign designed by the Southern Nevada Health District (SNHD). This study repeated those trail traffic counts to determine if trail traffic remained higher several months after the promotional campaign. This round of traffic counts also compared traffic on four control trails with six experimental trails which received incremental distance markings. In the fall of 2011, we placed infrared sensors on 10 local trails to count all users for one week. We repeated the counts for another week in the fall of 2012. Manual user counts were also conducted to validate sensor data. We compared traffic counts from before the media campaign and marking project to the counts taken one year later.
Lessons Learned
Mean hourly trail users increased 33%, from 3.84 users per hour to 5.12 users per hour, from Fall 2011 to Fall 2012. Although these increases are smaller than those measured immediately after the media campaign, they remain significant (p<.001). Results varied at individual trails. Traffic counts increased at nine of the study trails, but one trail saw a significant decline in usage. Usage patterns by time of day and day of week were similar before and after the campaign for summary level data, but varied at the individual trail level. When we compared traffic on the six experimental trails, which received incremental distance markings in the summer of 2012, to the four control trails, we observed no significant differences in mean hourly users between the two groups after the markings were applied. The effect of the trail markings may become more clear over time.
Conclusions and Implications
Between the fall of 2011 and the fall of 2012, trail traffic increased significantly (p<.001) on 10 urban trails in Southern Nevada, after a media campaign promoting trail use. Promotional campaigns may be an effective approach to increasing the use of urban trails. This project also analyzed the effect of incremental distance markings for six of the study trails. We observed no difference in mean hourly trail users between the study and control trails.
Next Steps
An additional round of data collection may be scheduled to assess differences in use between the marked and unmarked trails over time.
Support / Funding Source
This project was funded by the Communities Putting Prevention to Work (CPPW) grant from the Centers for Disease Control (CDC) to SNHD (CPPW 1U58DP002382-01).
RECENTLY ADDED TOOLS & RESOURCES
Research Briefs & Syntheses
We are pleased to announce an exciting new alliance between Active Living Research and GP RED to co-host and coordinate...

The "Active Living Conference" aims to break down research and practice silos and...
August 14, 2018