Does Neighborhood Walkability Moderate the Effects of Mass Media Communication Strategies to Promote Regular Physical Activity?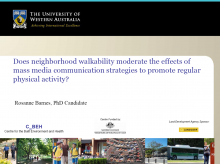 Author:
Rosanne Barnes, BHlthSc, BCom, Billie Giles-Corti, PhD, Adrian Bauman, PhD, & Michael Rosenberg, PhD
Description:
Presentation at the 2012 Active Living Research Annual Conference. 
Background
Mass media campaigns are commonly used in Australia and elsewhere to promote physical activity among adults. Neighborhood walkability is consistently shown to be associated with walking and total physical activity. It is plausible that mass media campaigns have different effects on individuals living in high and low walkable neighborhoods.
Objectives
To compare pre and post-campaign cognitive and behavioral impacts of the National Heart Foundation's Find Thirty every day® campaign, in respondents living in high and lower walkable areas.
Methods
The data used in this analysis were sourced from two cross-sectional surveys (n ≈ 1000) administered via telephone interview in 2008 (pre-campaign wave one) and 2009 (following campaign wave three) using a computer-assisted telephone interviewing (CATI) script. The samples were randomly selected from the Western Australian White Pages telephone directory with response rates of 77% pre-campaign and 79% post campaign wave three. Respondents who supplied a complete address located in the Perth metropolitan area were included in the current study. The final sample consisted of 483 adults pre-campaign and 370 adults post-campaign. Respondents' street addresses were geocoded using geographic information systems (GIS). Objective land use and street network data for the Perth metropolitan area (2009) were used to derive the walkability index measure. Three walkability components were measured for a neighborhood scale of a 1600 meter network distance service area, around the home, using an automated script tool. A Western Australian recreational walkability index (Christian et al. 2011) was used, calculated as the sum of the z-scores for dwelling density, street connectivity and land use mix, based on methodology by Frank et al. (2005). Cognitive and behavioral campaign impacts were assessed using logistic regression stratified by neighborhood walkability and adjusted for gender, age and education.
Results
Campaign awareness, comprehension and acceptance and behavioral intention and action (i.e., cognitive impacts) were significantly higher post-campaign. Cognitive campaign impacts were consistently higher among respondents living in high compared with lower walkable neighborhoods. Among behavioral outcome measures however, the odds of sufficient overall walking and sufficient physical activity were higher post-campaign in residents of both low and high walkable neighborhoods, however only reached statistical significance in those in lower walkable neighborhoods. In contrast, the odds of any transport walking, overall walking, total physical activity or sufficient transport walking declined post-campaign, although was only statistically lower for 'any' transport walking among respondents in lower walkable neighborhoods.
Conclusions
The findings suggest that cognitive, but not behavioral, impacts of mass media physical activity campaigns may be enhanced by living in a more walkable neighborhood. These findings are important, given that changes in cognitions may precede changes in behavior. The reason for the behavioral impacts observed will be explored.
Support/Funding
Australian Postgraduate Award.
RECENTLY ADDED TOOLS & RESOURCES
Research Briefs & Syntheses
We are pleased to announce an exciting new alliance between Active Living Research and GP RED to co-host and coordinate...

The "Active Living Conference" aims to break down research and practice silos and...
August 14, 2018