Does Summertime Weight Gain Undermine Youth Obesity Prevention Efforts?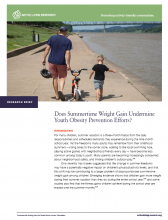 Author:
Michael W. Beets, MEd, MPH, PhD, Arnold School of Public Health, University of South Carolina
Summary:
The Challenge: For many children, summer vacation is a three-month hiatus from the daily responsibilities and scheduled demands they experience during the nine-month school year. Yet the freedoms many adults may remember from their childhood summers — riding bikes to the corner store, walking to the local swimming hole, playing active games with neighborhood friends every day — have become less common among today's youth.
Make an impact: As policy-makers, practitioners, and researchers continue to work toward reversing the childhood obesity epidemic and ensuring our children grow up at a healthy weight, learning more about what occurs during summer vacation may be critical for informing their efforts.
What the findings are about: This research brief synthesizes what is known about summer weight gain, and how physical activity and diet during the summer may contribute.
Key Findings and Recommendations:
During summer vacation, children gain up to three times as much weight as during the entire school year.
Children lose fitness improvements they had gained during the school year by the time they returned from summer vacation.
Poor dietary habits in summer camps negatively impact children.
Summer program leaders recognize health as important.
Healthy eating and physical activity standards for day-long summer programs should be implemented by the settings many youth frequent during the summer.
Suggested Citations:
Beets, MW. Does Summertime Weight Gain Undermine Youth Obesity Prevention Efforts? San Diego, CA: Active Living Research; 2015. Available at www.activelivingresearch.org.
RECENTLY ADDED TOOLS & RESOURCES
ALR2018 will be held February 11-14, 2018 at the Banff Centre for Arts and Creativity in Banff, Alberta, Canada.
...

Infographic detailing how local park and recreation agencies impact health and...
July 13, 2017

Park and Recreation Month focuses on the power of play.
July 11, 2017