Effectiveness of Using WellSAT in Improving School District Wellness Policies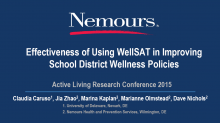 Description:
Presentation at the 2015 Active Living Research Annual Conference.
Background
In 2012, Nemours received funding from the CDC to work in partnership with targeted school districts and community partners to develop and implement local policy, infrastructure and programmatic changes that will result in positive changes in weight, eating behaviors, physical activity and the social emotional wellness of the students in those districts. Key objectives include engaging school districts in improving their wellness policies by providing districts with technical assistance and a coding tool to self-score policies, and working collaboratively with districts to include recommended language to strengthen policies, increasing the number of schools with school-wide physical activity plans, implementing 10-minute classroom "energizers" of physical activity throughout the day for elementary and middle school students, and increasing the number of schools with written nutrition promotion plans. This effort contributes to a coordinated school health approach that enables schools to promote health using a sustainable model shared by multiple stakeholders.  Policy analysis provides an opportunity for schools to recognize when practice and policy do not match, to educate stakeholders and staff on model policy and practice, and to plan for policy changes.  This presentation will share how 6 school districts in the state of Delaware (urban, rural, and suburban; district free and reduced lunch rates of 59% to 70%) used the Wellness School Assessment Tool (WellSAT) from the Yale Rudd Center to self-evaluate their policies.   This validated, comprehensive coding system allows districts to evaluate their policies according to best practices and federal requirements.  The tool has been shown to be reliable and feasible for use by public health professionals to support schools in rating their policies (Brissette et al 2013).  However, it has not been previously studied in use by school professionals with little or no policy or public health background.     The process of self-evaluation streamlined policy change by highlighting areas where practice outperformed policy as well as areas where practice did not match policy.  Teachers, staff, and community members engaged in the process used this easy-to-use tool to gain practical, hands-on professional development in the area of school health and policy development.  This session will share the success of this process in strengthening wellness policies through engaging staff in the process and ensuring a positive political environment for policy adoption.
Description
The program built on qualitative research studies that had been conducted in Delaware school districts: Nemours conducted two previous studies in 2009 and 2011 using key informant interview methodology to collect data on the process of wellness policy revision, as well as policy implementation facilitators and barriers, and stakeholder need and recommendations.   Data from both studies was used to improve Nemours' technical assistance to schools and districts, and was used in a grant application for a Center for Disease Control (CDC) Small Communities Grant (CTG).  Six school districts in the state of Delaware were recruited to participate in a Community Transformation Grant Small Communities project.  Districts were recruited due to high free and reduced lunch participation, educational attainment in surrounding communities, and health disparities.   Six comparison districts were matched for size, student demographics and geographic location.  Each district gathered a wellness committee to including physical education teachers, guidance counselors, school psychologists, school nurses, assistant superintendents, district nutrition supervisor, community mental health agencies, and community members.  Wellness committees were to meet monthly.  At the start of the grant period, each district's wellness committee met to score the current wellness policy using the WellSAT.  They received no prior training on the use of the tool or model policy.  During the self-scoring process, a trained facilitator coached the committee to only look at what was written in the policy. Committees met monthly to create draft policies for recommendation to districts boards of education, using the knowledge gained during the self-scoring as a guide.  During the policy process school-level wellness committees completed the School Health Index, focusing primarily on the areas of nutrition, physical activity, and social and emotional wellness.   School action plans were developed and implementation began in school year 2013-2014.  This school-level work contributed to the policy environment.  District wellness committees shared the model policy with district leadership, who presented it to the boards of education.  All districts adopted new wellness policies by July 2014, with no changes from the model policy developed by wellness committees.   This presentation will focus on the lessons learned on using research-based self-assessment tools to change district policy and policy implementation.
Lessons Learned
Self-assessment is a quality technical assistance tool that can help districts make policy changes. The WellSAT tool can be used by non-public health professionals to make significant change in wellness policy strength and breadth.
Conclusions
Communicating research through self-assessment is an effective tool for policy and practice change at the school level.
Next Steps
Proposed new USDA wellness policy regulations present new challenges to schools as they work to increase policy strength while maintaining quality.
References
Brissette I, Wales K, O'Connell M. Evaluating the Wellness School Assessment Tool for use in public health practice to improve school nutrition and physical education policies in New York. J Sch Health. 2013 Nov;83(11):757-62. doi: 10.1111/josh.12091. PubMed PMID: 24138345.
Support / Funding Source
Funding for this project was provided by a Centers for Disease Control and Prevention Community Transformation Grant Small Communities Grant.
RECENTLY ADDED TOOLS & RESOURCES
Research Briefs & Syntheses
We are pleased to announce an exciting new alliance between Active Living Research and GP RED to co-host and coordinate...

The "Active Living Conference" aims to break down research and practice silos and...
August 14, 2018