Engaging the Research Community in Accelerating Policy Change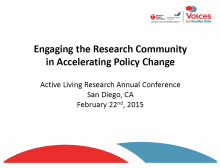 Author:
Jill Birnbaum, JD, Sally Wong, PhD, RD, CDN, & Debbie Hornor, BA, Voices for Health Kids American Heart Association
Description:
Workshop at the 2015 Active Living Research Annual Conference.
This training provided an overview of the latest in childhood obesity issue advocacy at the state and community levels as well as provided concrete steps for engagement by researchers who want to connect as advocates.  Specific topics included: 1). Defining advocacy and understanding the role of issue advocacy in building a reversing the childhood obesity epidemic, including how to achieve public health impact through public policy change and the difference between advocacy and lobbying. 2). Introducing Voices for Healthy Kids, including an overview of the approach and policy priorities. 3). Overview of the principles of effective issue advocacy campaigns using the Power Prism® model, including: Research and data collection (small group hands-on activity:  Conducting key informant interviews); Coalition building and maintenance; Grassroots and key contacts; Media advocacy (independent and paired hands-on activity:  developing your persuasive message using the 27-9-3 framework; Key decision-maker advocacy (Pathways of Influence); Fundraising and Development. 4). Discussion on the engagement of the research community in policy change.
RECENTLY ADDED TOOLS & RESOURCES
Research Briefs & Syntheses
We are pleased to announce an exciting new alliance between Active Living Research and GP RED to co-host and coordinate...

The "Active Living Conference" aims to break down research and practice silos and...
August 14, 2018