The Impact of Physical Environment and Policy Characteristics on Physical Activity Levels of Children Attending After-school Programs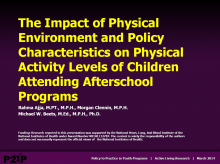 Author:
Rahma Ajja, MPT, MPH, Morgan Clennin, MPH, Michael Beets, PhD, Daria Winnicka, BA, Falon Tilley, MS, Glenn Weaver, PhD, & Jessica Chandler, MS
Description:
Presentation at the 2014 Active Living Research Annual Conference.
Background and Purpose
Afterschool programs (3 pm – 6 pm, ASP's) are seen as an important setting to combat children's physical inactivity.(1, 2) In recent years, evidence supporting the role of the physical environment and policy-level characteristics on children's physical activity level has emerged.(3, 4) However, the extent to which ASP's physical environment and policy characteristics impact the physical activity level of children attending is unknown.
Objectives
The purpose of this paper is to evaluate the influence of program physical environment and policy characteristics on the physical activity levels of children attending a diverse range of ASP's.
Methods
Twenty afterschool programs across South Carolina serving 1,700 children (5-12 years old) took part in a healthy eating and physical activity intervention. Baseline information for physical activity is presented. Policy-level characteristics were evaluated for the presence of 11 supportive physical activity policy items (i.e. the presence of written policy to promote physical activity, child feedback, screen time, types of physical activity, allocating time for physical activity in the schedule, staff training to promote physical activity and quality of that training, providing activities that appeals to both girls and boys, curriculum and evaluation) using the Healthy Afterschool Program Index-Physical Activity (HAPI-PA).(5) The total score of the HAPI-PA is presented as a continuous measure (0-25) with higher scores indicating a more supportive environment of physical activity. The physical environment was defined as the size of physical activity space used by the ASP's and was determined by the program site director and direct observation. Used indoor physical activity area (ft2) was measured using a measuring wheel at each of the 20 's. Estimates of the outdoor spatial area (acre) used for physical activity at each of the ASP's in the study was calculated using Geographical Information Systems software (GIS).
Physical activity was measured using ActiGraph accelerometers (Shalimar, FL) during four non-consecutive days (Monday through Thursday) in the Spring of 2013. Children were fitted with the accelerometers upon arrival at the ASP's and removed prior to program departure.  Cut-point thresholds associated with Moderate-to-vigorous physical activity (MVPA) (Evenson cut-points) (6) were used to distil physical activity intensity and sedentary behavior (Matthews cut-points) (7) using 5-seconds epoch intervals. Accelerometer data was included in the analysis if total daily attendance (accelerometer wear-time) was equal to or greater than 55 minutes. The association between the presence of an environmental features and time spent in MVPA and sedentary behavior was calculated using a mixed model regression accounting for multiple measurement days nested within child nested within afterschool program.
Results
The size of the physical activity space used was significantly associated with a change in the amount of time both boys and girls spent in MVPA and sedentary behavior, after adjusting for age, race, BMI, percentage of population (neighborhood) in poverty, time spent in the program, total HAPI-PA score, and scheduled physical activity time. Specifically for every 1000 ft2 of used indoor activity space, a decrease of 2.0 minutes (95%CI -3.9  - -6.5) and 2.1 minutes (95%CI -3.8 - -3.0) of MVPA and an increase of 5.5 minutes (95%CI 2.2-8.7) and 6.5 minutes (95%CI 3.1-9.1) of sedentary behavior was observed among boys and girls, respectively. For every 1 acre of outdoor space used for physical activity, boys and girls showed an increase of 2.5 minutes (95%CI 1.6-3.4) and 1.60 minutes (95%CI 0.8-2.4) of MVPA and a decrease of 3.8 minutes (95%CI -5.4 - -2.3) and 2.5 minutes (95%CI -4.0 - -1.1) of sedentary behavior. No other associations were observed.
Conclusions
Despite the importance of policy characteristics, the mere presences of these characteristics were unrelated to the physical activity levels of children attending ASP's. Although the size of used outdoor physical activity space was related to higher levels of MVPA, while the amount of used indoor space was associated with lower levels of MVPA, for both boys and girls, the observed change in minutes of MVPA was small.
Implications for Practice and Policy
The findings of this study have two important implications for improving physical activity of children attending ASP's. First, our results suggest that in the absence of support systems aimed at assisting ASP's with implementation of physical activity polices, supportive policy characteristics are ineffective in increasing the amount of MVPA accumulated by children attending ASP's. Second, our findings suggest that although the change in the amount of MVPA accumulated while at the ASP's was significantly associated with the size of used physical activity space, the magnitude of change in the amount of MVPA accumulated was relatively small for every one unit of increases in the size of physical activity space. Taken together, these findings suggest other more modifiable ASP's characteristics, such as the skills staff have for creating activity-friendly environments, may be more influential to increasing MVPA than policy or physical environmental characteristics.
References
Beets MW, Beighle A, Erwin HE, Huberty JL. After-school program impact on physical activity and fitness: a meta-analysis. Am J Prev Med 2009;36(6):527-37.
Pate RR, O'Neill JR. After-school interventions to increase physical activity among youth. British Journal of Sports Medicine 2009;43(1):14-18.
Bower JK, Hales DP, Tate DF, Rubin DA, Benjamin SE, Ward DS. The childcare environment and children's physical activity. Am J Prev Med 2008;34(1):23-9.
Sallis JF, Glanz K. The role of built environments in physical activity, eating, and obesity in childhood. The future of children 2006;16(1):89-108.
Ajja R, Beets MW, Huberty J, Kaczynski AT, Ward DS. The healthy afterschool activity and nutrition documentation instrument. Am J Prev Med 2012;43(3):263-71.
Evenson KR, Catellier DJ, Gill K, Ondrak KS, McMurray RG. Calibration of two objective measures of physical activity for children. J Sports Sci 2008;26(14):1557-65.
Matthews CE, Chen KY, Freedson PS, Buchowski MS, Beech BM, Pate RR, et al. Amount of time spent in sedentary behaviors in the United States, 2003-2004. American Journal of Epidemiology 2008 167(7):875-81.
Support / Funding Source
1R01HL112787-01A1
RECENTLY ADDED TOOLS & RESOURCES
Research Briefs & Syntheses
We are pleased to announce an exciting new alliance between Active Living Research and GP RED to co-host and coordinate...

The "Active Living Conference" aims to break down research and practice silos and...
August 14, 2018