Increasing Evidence to Create Active Communities: Stories from the Field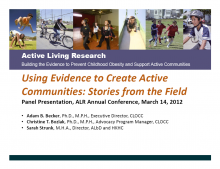 Author:
Adam Becker; Christine Bozlak; Sarah Strunk
Description:
Panel presentation at the 2012 Active Living Research Annual Conference.
From large metropolitan cities to small communities across the nation, community groups and professional associations are working at many levels to change policies, systems and practice to curb the obesity crisis. The Consortium to Lower Obesity in Chicago Children (CLOCC), a nationally recognized leader in community-based obesity prevention in Chicago, has evaluated citywide standards to improve nutrition, increase physical activity and reduce screen time in licensed childcare settings.  They have a strong tradition of implementing evidence-based approaches and evaluating outcomes. Healthy Kids, Healthy Communities has been working with communities throughout the nation, including tribal communities to introduce policy and environment change to decrease obesity and improve health.  In this panel both organizations provide their unique perspective on what it takes to create and maintain large-scale changes as well as the inherent challenges.
Panel Members
Adam B. Becker, Ph.D., M.P.H., Executive Director, Consortium to Lower Obesity in Chicago Children
Christine T. Bozlak, Ph.D., M.P.H., Advocacy Program Manager, Consortium to Lower Obesity in Chicago Children
Sarah Strunk, M.H.A., Director, Active Living by Design and Healthy Kids, Healthy Communities
RECENTLY ADDED TOOLS & RESOURCES
Research Briefs & Syntheses
We are pleased to announce an exciting new alliance between Active Living Research and GP RED to co-host and coordinate...

The "Active Living Conference" aims to break down research and practice silos and...
August 14, 2018