Increasing Physical Activity in Parks: Results of a Randomized Controlled Intervention Trial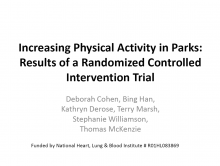 Author:
Deborah Cohen, MD, MPH, Bing Han, PhD, Kathryn Derose, PhD, MPH, Stephanie Williamson, BA, Terry Marsh, MPH, Thomas McKenzie, PhD
Description:
Presentation at the 2013 Active Living Research Annual Conference
Background and Purpose
Parks are venues designed for leisure physical activity and are especially conducive to moderate-to-vigorous physical activity, which has been causally related to better health outcomes. Meanwhile most people do not meet national guidelines for physical activity and most parks are underutilized. We were interested in determining whether changes in programming, outreach, and marketing could increase park use and park-based physical activity.
Objectives
1). To determine if information from assessments of park use with the System for Observing Play and Recreation in Communities (SOPARC) and training on outreach and marketing could improve park use and park-based physical activity. 2). To determine if the involvement of Park Advisory Board in making decisions on how to improve park use would be superior to decisions made by park directors alone.
Methods
We randomized 50 parks to 3 study arms: a park director-led change arm, a Park Advisory Board (PAB)-involved study arm, and a control arm. After randomization, we assessed all parks using SOPARC and interviewed a sample of 75 park users and 75 local residents randomly selected from households within 1 mile of each park. In the PAB condition, members of the Park Advisory Board and local residents were invited to participate as paid data collectors. All data collectors were trained in SOPARC and survey methods prior to data collection. We conducted a baseline assessment and discussed the results with the two intervention arms, but not the control arm. After this discussion, both the park director- and PAB-involved parks were given $4000 to spend in ways they thought appropriate to attracting more park users. All park directors and PABs were invited to attend about 5 separate training sessions where a marketing expert provided guidance on outreach, the importance of excellent customer service, the importance of visibility, and using events to promote routine activities and programs. Study parks opted to use funded primarily for 1) signage, like banners, bulletin boards, floor mats, staff shirts, table covers, bubba kegs, clipboards, staff aprons and walking path signage, 2) promotional incentives like water bottles, bags, or key chains with the park name printed on them, and 3) increasing outreach and supporting group activities with equipment purchases. This latter category included increased e-mail communications and staff deliberately walking through the park and talking to more park users, hiring additional  instructors, and buying class/activity materials and as well as equipment like shades, tents, movie screen/projector, cameras, PA system for events or concerts in park. Two-three years after the baseline assessment, and in the same season and time period, we conducted follow-up assessments using the same methods as at baseline.
Results
The two intervention arms did not differ significantly on what they chose to spend the $4000. Most parks implemented more than one specific change across the categories of signage, promotional incentives, and group activities. Comparing baseline to follow-up the control parks had 146 fewer users per week (p=.07) and 325 fewer METS were expended per week (p < .05). representing a decline of 6-10% in the their average use. In contrast, relative to control parks, intervention arms experienced 174 more users/week/park; 571 more METS expended/week/park: equivalent to 429 more people walking briskly for 20 minutes every week, representing a 7-12% gain in the average park use. Based on an additional expenditure of $4000 and if the effect lasted at least 20 weeks, the cost per MET gained is approximately 36 cents. Intervention effects were more notable for males than females, with roughly 75% of the intervention effects were due to more males using the parks.  More than 50% of the increase in park use was attributable to investments in signage. However, the relative non-significant changes associated with other expenditure categories may also result from an insufficient number of parks spending in those categories. Significant factors associated with increased use were size of a park (with METs only), local population density, number of amenities/facilities, accessibility (facilities being open), season (summer has the highest usage), and number of supervised/organized activities. Factors associated with decreased use, but statistically insignificant, were poverty levels and perception of park safety. The intervention was limited by (a) challenges in organizing PABs that PABs in low-income neighborhoods, (b) many parks not spending their money until right before the follow-up measurement, so the time for the interventions to take effect was not uniform across sites, and (c) considerable park staff turnover due to budget cuts.
Conclusions
Involving park advisory boards in resource allocation decisions did not appear to be superior to having the parks directors do this alone. Parks have a large, untapped potential to increase population physical activity. They can attract more users, but doing so requires attention and modest investments.
Support / Funding Source
NHLBI # R01HL083869
RECENTLY ADDED TOOLS & RESOURCES
Research Briefs & Syntheses
We are pleased to announce an exciting new alliance between Active Living Research and GP RED to co-host and coordinate...

The "Active Living Conference" aims to break down research and practice silos and...
August 14, 2018