Investing in Health: An Analysis of Economic Development Initiatives that Promote Physical Activity and Healthy Lifestyles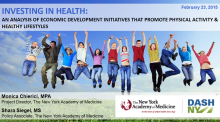 Author:
Monica Chierici, MPA, The New York Academy of Medicine
Description:
Presentation at the 2015 Active Living Research Annual Conference.
Background
The health of New York's economy, communities, and residents is inextricably linked. People living in low-income and distressed neighborhoods often experience poor health outcomes, and poor health and illness create an economic burden that affects individuals, companies, regions, and, ultimately, the entire state. New York ranks second highest in the United States for medical expenditures attributable to obesity, spending $11.1 billion (in 2009 dollars)[i] each year. Being physically active and eating healthy foods are two key variables that contribute to preventing obesity and other related chronic illnesses. Therefore, community and economic development that supports increased access to physical activity and healthy foods within all our communities is vital to addressing both the economic and physical health of New York State.   In 2011, New York State Governor Andrew M. Cuomo and Lieutenant Governor Robert Duffy created 10 Regional Economic Development Councils (REDCs) to develop long-term plans for economic growth across the state. The REDC plans have largely focused on job creation. An analysis was done by The New York Academy of Medicine (NYAM) as part of its Designing a Strong and Healthy New York (DASH-NY) Obesity Prevention Policy Center to show that economic development initiatives are also opportunities to simultaneously enhance public health. Staff reviewed the 725 projects funded through the REDC process in 2012 and 824 projects in 2013 and compared them against evidence-based and recommended interventions for increasing access to healthy foods and physical activity in communities. The analysis found close to two hundred projects that simultaneously meet health and economic development goals. This approach can be utilized by other states and communities to align economic development initiatives with community health improvement efforts.
Description
Research demonstrates that the way communities are designed can make it easier for people to live healthier lives.[ii]  For instance, physical activity has been shown to prolong life, and there are ways to design communities to make daily activities like walking, biking and shopping easier and safer.  Making physical activity an easier choice can reduce risks associated with leading chronic diseases, such as stroke, cardiovascular disease, and some types of cancer.[iii].  The methodology developed for this analysis can help others interested in building multi-sector partnerships develop and implement projects that promote health in a way that will have synergy with economic development goals.  This presentation will use NYAM's analysis of the New York State REDC funding process to show how specific evidence-based interventions that promote health can be incorporated into economic development initiatives.
Lessons Learned
1.  There are specific strategies to help shape communities' physical and social environments in ways that promote healthy behaviors, prevent illness and premature death, and promote community and economic development. These strategies include promoting active design, encouraging transit oriented development, and making healthy and local foods available through investment in grocery stores, farmers markets, and improved regional agricultural infrastructure  2. Funding for projects that promote health in the REDC process is increasing, which shows there are great examples for how economic development and health can be mutually supportive. *Out of the 725 projects awarded in 2012, there were 45 potentially health promoting projects, with 21 projects supporting healthy eating and 24 projects supporting physical activity. The 45 projects represent 2.2% of total funding ($16 million of the total $738 million). *Out of the 824 projects that were awarded in 2013, there were 22 projects that support healthy eating and 109 that support physical activity. The 131 projects cover 7.4% of total funding ($53 million of the total $716 million).   3. The distribution of projects with potential to promote healthy eating and physical activity varies greatly. Opportunities exist through the REDC process to promote greater health equity across demographic and county lines.
Conclusions
Statewide economic development initiatives represent an exciting opportunity for strategic planning and alignment of multiple resources toward improving health. The 2012 and 2013 awards in New York State demonstrated increased opportunities for health promotion through the REDC process, the core goal of which may be economic development. As NYS refines its economic development initiatives, and other states consider similar initiatives, there will be additional opportunities to consider health as a core objective in economic development activities.  For example, the creation of metrics by which economic development projects can account for health in plans and setting targets for dollars invested in projects that have a positive impact on health.
Next Steps
NYAM plans to work with partners across the REDCs in NYS to inform its members about how health and economic development are mutually supportive and to identify future opportunities for synergistic projects.  NYAM also plans to repeat its analysis of the NYS REDCs with an expanded set of metrics for the next round of awards to see how funding for projects that support healthy behaviors are maybe changing over time.
References
"Focus Area 1: Reduce Obesity in Children and Adults," New York State Department of Health, accessed August 26, 2013, http://www.health.ny.gov/prevention/ prevention_agenda/2013-2017/plan/chronic_diseases/focus_area_1.htm.
"Healthy Community Design," Centers for Disease Control and Prevention, accessed August 14, 2014, http://www.cdc.gov/healthyplaces/factsheets/healthy_community_design_factsheet_final.pdf.
McCann BA, Ewing R. Measuring the effects of sprawl: A national analysis of physical activity, obesity and chronic disease. Smart Growth America Surface Transportation Policy Project: September 2003, accessed August 14, 2014, http://www.smartgrowthamerica.org/documents/HealthSprawl8.03-1.pdf and Centers for Disease Control and Prevention. Physical activity for everyone [online], accessed August 14, 2014, www.cdc.gov/physicalactivity/everyone/guidelines/.
Support / Funding Source
The New York Academy of Medicine's work on funding from the New York State Department of Health, DASH-NY serves as New York State's Obesity Prevention Coalition and Policy Center.
RECENTLY ADDED TOOLS & RESOURCES
Research Briefs & Syntheses
We are pleased to announce an exciting new alliance between Active Living Research and GP RED to co-host and coordinate...

The "Active Living Conference" aims to break down research and practice silos and...
August 14, 2018