A Multi-Site Study of Environmental Correlates of Active Commuting to School in Mexican Children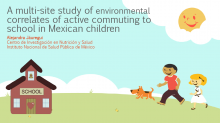 Author:
Alejandra Jáuregui de la Mota, MSc, PhD(c), Instituto Nacional de Salud Pública
Description:
Presentation at the 2015 Active Living Research Annual Conference.
Background
Physical inactivity is endemic in Mexico, and a majority of Mexican children fail to meet physical activity recommendations.  Walking or bicycling to school, also known as active commuting to school (ACS), has been identified as an effective, low-cost strategy for increasing physical activity in the daily routines of children. Studies conducted in various settings in high- (HIC) and low- and middle-income countries (LMIC) have found that ACS can lead to increased energy expenditure, increased levels of physical activity, and increased likelihood of meeting physical activity guidelines. Correlates associated with promoting and inhibiting ACS include a wide range of individual and familial characteristics as well as home and school neighborhood characteristics. While demographic correlates of ACS have been widely explored, there is a lack of studies that investigate environmental and familial characteristics simultaneously. Therefore, the purpose of this work is to expand current knowledge on ACS behavior in a Latin American context, by examining family and environmental correlates of ACS in a sample of school-age children attending public schools in three Mexican cities.
Objectives
To evaluate the associations between ACS and environmental features surrounding public elementary schools in 3 Mexican cities.
Methods
In 2012, the Understanding Health Habits in Mexican Children project collected physical activity data on children in public elementary schools and environmental audit data in surrounding neighborhoods in Guadalajara (N=10), Mexico City (N=13), and Puerto Vallarta (N=3). A modified version of the 4th grade School Physical Activity and Nutrition (SPAN) survey was used to capture demographic and family structure information, as well as transportation mode to school. ACS was defined as walking or bicycling to school. A modified version of the Pedestrian Environment Data Scan (PEDS) was used to measure street scale elements within a 400-meter buffer surrounding each school. The PEDS measures the quality and nature of the pedestrian environment including land-use diversity, sidewalk, connectivity and quality, traffic control devices and crossing aids and speed limits of street segments. Environmental data were completed using geographic information systems. Information on neighborhood demographics, connectivity and residential density was collected. Multilevel logistic modelling was used to explore the environmental correlates of ACS.
Results
A total of 1237 children (Guadalajara N=627, Puerto Vallarta N=119, Mexico City N=491) from grades 3 through 5 were measured. 52.8% of children were female, mean age was of 9.63 years (±0.06), and 41% of families had more than two children. A total of 50.5% (N=625) of children overall engaged in ACS. Higher sidewalk availability was found in Guadalajara (80% of street segments) compared to Puerto Vallarta (65% of segments) and Mexico City (69% of segments). Mexico city had the highest proportion of segments with traffic control devices (42%) and crossing aids (32%), as well as residential density (3530 households/km squared), while the highest values of street connectivity and land-use mix were found in Puerto Vallarta (3- and 4-way intersections per km squared=1.25) and Guadalajara (3-category land use mix score=0.81), respectively.
Conclusions
Engagement in ACS was associated with multiple factors at multiple levels (i.e., family and environment). We identified number of children in the household, higher residential density and higher proportion of employed population in the neighborhood as important correlates of ACS. Identified correlates were different from what has been observed in HIC. Our findings suggest that land-use mix and residential density in the Mexican context may be negatively associated with ACS, consistent with the IPEN-Mexico adult study findings (Salvo et al, 2014). Likewise, no associations were found for sidewalk availability, traffic control devices, crossing aids or posted speed limits. This is probably due to the fact that ACS is necessity driven, underplaying the importance of street safety features.
Implications
While further examination is needed before formal policy recommendations for Mexico can be made, findings support the notion that evidence from HIC is inadequate to guide local programs and policies to promote PA through environmental changes. By examining multiple factors at multiple levels of environment, this study will provide context-specific evidence on family and environmental determinants of ACS that can be used to inform future research, policy, and health promotion strategies in Mexico and Latin America.
References
Salvo D, Reis RS, Rivera JA, Martorell R, Pratt M. Characteristics of the Built Environment in Relation to Objectively Measured Physical Activity Among Mexican Adults, 2011. Prev Chronic Dis. 2014;(in press; Accepted May 30, 2014).
Support / Funding Source
This work made possible by a Fulbright-García Robles Core Scholar Fellowship awarded to Dr. Lee., the Canadian Institutes for Health Research and the Public Health Agency of Canada.
RECENTLY ADDED TOOLS & RESOURCES
Research Briefs & Syntheses
We are pleased to announce an exciting new alliance between Active Living Research and GP RED to co-host and coordinate...

The "Active Living Conference" aims to break down research and practice silos and...
August 14, 2018