A National Survey of Correlates of Local Health Department Engagement in Community Policy to Encourage Physical Activity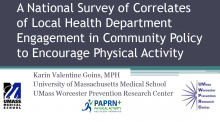 Author:
Karin Valentine Goins, MPH, University of Massachusetts Medical School
Description:
Presentation at the 2015 Active Living Research Annual Conference.
Background
Evidence has accumulated that particular environmental conditions and characteristics correlate with walking and bicycling, including participation in these behaviors for active transportation.  Public health authorities have recommended strategies in the realms of land use and urban design, transportation and recreation access for communities to become more walk- and bicycle-friendly. Model policies in these domains exist. Policy development is one of the core functions of public health, and evidence suggests that policy activity or development by local health departments (LHDs) correlates with policy adoption. However, there are critical practice gaps. Participation by local health officials in the built environment policy process, including policies related to land use and urban design, transportation and recreational access that promote physical activity, is limited.  Greater LHD involvement could increase the adoption and implementation of policies needed for national physical activity objectives and benchmarks to be met. LHD characteristics and activities have been shown to affect delivery of essential public health services, engagement in quality improvement efforts, partnership involvement, ties to other LHDs that could facilitate implementation of evidence-based programming, and public health performance. Better understanding of LHD characteristics associated with participation in built environment policy processes is an important first step to developing tailored interventions to increase policy implementation.
Objectives
We assessed correlates of local health department (LHD) participation in community-focused policy and advocacy activities to encourage physical activity in the past two years in a nationally representative sample of LHD directors.
Methods
Cross-sectional data from the National Association of County and City Health Officials' 2013 National Profile of Local Health Departments were analyzed. 490 LHD directors completed both Core and Module 1 of the web-based survey (79% response rate). Policy participation was measured by a series of questions that first asked if the LHD had participated in obesity/chronic disease prevention policy and advocacy activities in the past two years. Those who responded yes were specifically asked about involvement in community level urban design and land use policies to encourage physical activity, active transportation options, and expanding access to recreational facilities. Correlates included structural characteristics (population size served, region, jurisdiction type, staffing), quality improvement efforts (completion of Community Health Assessment (CHA) and Community Health Improvement Plan (CHIP), Public Health Accreditation Board (PHAB) status, use of core competencies for public health workers, and use of Guide to Community Preventive Services), and collaboration (community land use partnership, cross-jurisdictional sharing of resources). Multivariable logistic regression models were used.
Results
Less than one-quarter of LHD directors reported that their department had been involved in policy and advocacy activities related to urban design and land use (25%), active transportation (16%) and recreational facility access (23%). In multivariable logistic regression models, LHDs with populations of 500,000 or more and consistent use of the Community Guide were associated with participation in each of the three policy types. Higher Full Time Equivalent (FTE) levels were associated with greater participation in policy to increase active transportation, with trends of an association with participation in policy for land use and urban design and expanding recreational access. LHDs with a community health improvement plan were more likely to participate in urban design and land use policy, whereas LHDs that were undecided about pursuing accreditation status were less likely to participate in recreational policy.  Participation in a community partnership related to land use was associated with urban design and land use and active transportation policy activity.
Conclusions
Population size served and staffing resources correlated with LHD participation in policy activities to increase community physical activity. Quality improvement efforts such as CHIP development, PHAB status and use of the Community Guide were associated with or show a trend toward policy participation. Collaboration in terms of partnering with the community on land use, but not resource sharing across LHDs, correlated with policy activity to increase physical activity at the community level.
Implications
Opportunities for interventions at the local level to boost policy implementation include assisting LHDs that serve smaller population sizes, integrating community physical activity strategies into LHD quality improvement efforts, and coaching LHDs on partnership-building with officials and the community in the areas of land use, transportation and recreation by increasing their capacity in these unfamiliar technical areas.
Support / Funding Source
This analysis is a product of a Prevention Research Center and was supported by Cooperative Agreement Number U48/DP001933 from the Centers for Disease Control and Prevention.
RECENTLY ADDED TOOLS & RESOURCES
Research Briefs & Syntheses
We are pleased to announce an exciting new alliance between Active Living Research and GP RED to co-host and coordinate...

The "Active Living Conference" aims to break down research and practice silos and...
August 14, 2018