Neighborhood Disorder and Screen Time among 10 - 16 Year Old Canadian Youth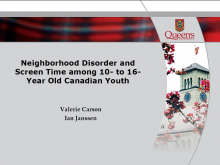 Author:
Valerie Carson, MA & Ian Janssen, PhD
Description:
Presentation at the 2012 Active Living Research Annual Conference.
Background
Excessive engagement in screen time activities (e.g., television, computers, video games) is linked to several negative health outcomes among young people, such as increased violence, low quality of life, poor body self-image, engagement in risky behaviors (e.g., drug and alcohol use), and cardio-metabolic risk factors (e.g., obesity, high blood pressure). In order to develop evidence-based interventions to reduce screen time, the factors that influence the behavior need to be better understood. Currently, there is insufficient evidence to draw conclusions on the influence of the neighborhood environment on screen time activities. However, ecological models suggest that the neighborhood environment is an important component in understanding health behaviors. One potential neighbourhood environment factor to consider is neighborhood disorder, which encompasses many factors such as crime, heavy traffic, graffiti, abandoned buildings, gang activity, drug sales, and prostitution. Consequently, high neighbourhood disorder may encourage young people to stay indoors where screen time activities are readily available.
Objectives
The purpose of this study was to examine the relationship between a comprehensive measure of neighborhood disorder with television, computer, and video game use among a large sample of youth in grades 6-10.
Methods
Results are based on the Canadian 2009/10 Health Behavior in School-Aged Children Survey (HBSC). This survey included a cross-sectional sample of 15,635 youth in grades 6-10 who attended 291 schools across the country. Thirteen area-level items of neighborhood disorder were measured using the HBSC student questionnaire (3 items), the HBSC administrator questionnaire (4 items), and Geographic Information Systems (GIS, 6 items). The student questionnaire measured perceptions of safety, stranger danger, and good places to spend free time. Average values for students at each school were calculated and each student from that school was assigned the average value for their school. The administrator questionnaire, completed by the school principal or designate, measured perceptions of racial/ethnic/religious tensions, drugs/drinking in public, gangs, and crime in the school's neighbourhood. GIS in combination with CanMaps Streetfiles, CanMaps Route Logistics, PCensus for MapPoint and Google Earth Street View software measured residential stability, traffic speed, litter, graffiti, vacant or abandoned buildings, and conditions of buildings/grounds within a 1 km radius circular buffer surrounding each school. Consistent with previous research examining neighborhood disorder, these 13 items were classified into social (7 items) and physical (6 items) neighborhood disorder categories. Principal component analysis was conducted to create summary social and physical neighborhood disorder variables and each variable was categorized into quartiles. Total hours per week of television, video games, and computer use were calculated based on weighted means for weekday and weekend use, as reported by students. Each screen time variable was categorized into quartiles and the highest quartile was used to denote high use. Multivariate multilevel logistic regression analyses were used to examine the relationship between social and physical neighborhood disorder and individual screen time variables, after adjusting for a variety of confounders.
Results
The prevalence of participants who were high television, computer, and video game users (top quartile) increased across social neighborhood disorder and physical neighborhood disorder quartiles (Ptrend < 0.01). The multilevel regression analyses, adjusted for confounders and physical neighborhood disorder, indicated that social neighborhood disorder was related to high television, computer, and video game use. There appeared to be threshold effects for television and computer use (i.e., odds ratios were only increased in quartile 4), but dose-response effects for video games. By comparison to youth in quartile 1, the relative odds for youth in quartile 4 were 1.48 (95% confidence interval: 1.20-1.83) for high television use, 1.68 (1.40-2.02) for high computer use, and 1.59 (1.33-1.90) for video games use. The multivariate analyses for the physical neighborhood disorder measure indicated that youth in quartile 4 were more likely to be high television (1.35, 1.09-1.69) and computer (1.25, 1.02-1.52) users compared to youth in the quartile 1 after adjustment for confounders and social neighborhood disorder. Physical neighborhood disorder was not an independent predictor of high video game use.
Conclusions
High social and physical neighborhood disorder independently predicted individual screen time among a large sample of youth. Therefore, targeting high social and physical neighborhood disorder may be one potential strategy for future public health interventions and strategies aiming to reduce screen time.
Support/Funding
This study was supported by research agreements with the Canadian Institutes of Health Research, the Heart and Stroke Foundation of Canada, and the Public Health Agency of Canada. VC was supported by a CIHR - Frederick Banting and Charles Best Doctoral Award. IJ was supported by a Canada Research Chair and an Early Researcher Award from the Ontario Ministry of Research and Innovation.
RECENTLY ADDED TOOLS & RESOURCES
Research Briefs & Syntheses
We are pleased to announce an exciting new alliance between Active Living Research and GP RED to co-host and coordinate...

The "Active Living Conference" aims to break down research and practice silos and...
August 14, 2018