Neighborhood Race, Poverty, and Access to Parks and Green Space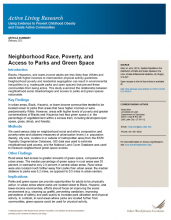 Author:
Ming Wen, University of Utah
Summary:
The Challenge: Blacks, Hispanics, and lower-income adults are less likely than Whites and adults with higher incomes to meet aerobic physical activity guidelines.
Make an impact: Neighborhood poverty and residential segregation can result in environmental inequalities (e.g. inadequate parks and open spaces) that prevent these communities from being active.
What the findings are about: This study examined the relationship between neighborhood social disadvantages and access to parks and green spaces nationwide.
Key Findings and Recommendations:
In urban areas, Black, Hispanic, or lower-income communities tended to be located closer to parks than areas that have higher incomes or were predominantly White.
Rural areas had access to greater amounts of green space and were located much further away from parks, compared with urban areas.
In urban areas where parks are located closer to Black, Hispanic, and lower-income communities, efforts should focus on improving the social environment (e.g. cleaning up graffiti, preventing vandalism, improving perceptions of safety) and park quality to increase park utilization and physical activity. In contrast, in rural areas where parks are located further from communities, green spaces could be used for physical activity.
Read the full article: Spatial Disparities in the Distribution of Parks and Green Spaces in the USA
Suggested Citations:
Wen, M., et al. (2013). Spatial Disparities in the Distribution of Parks and Green Spaces in the USA. Annals of Behavioral Medicine, 45(1Suppl): S18-S27.
RECENTLY ADDED TOOLS & RESOURCES
Research Briefs & Syntheses
We are pleased to announce an exciting new alliance between Active Living Research and GP RED to co-host and coordinate...

The "Active Living Conference" aims to break down research and practice silos and...
August 14, 2018