Niche to Norm: Progress Made and Progress Needed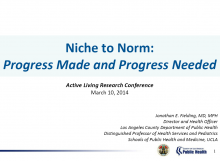 Author:
Jonathan E. Fielding MD, MPH, MBA, Director and Health Officer, Los Angeles County Department of Public Health
Description:
Keynote speaker presentation at the 2014 Active Living Research Annual Conference.
Dr. Fielding is a distinguished public health leader who has directed the Guide to Community Preventive Services and is Executive Editor of the Annual Review of Public Health, the most influential public health publication. In his keynote presentation, he discussed national examples of the increased application of environmental and policy strategies to increase active living and reduce disparities over the past few years. He highlighted work he has led in the LA County Department of Public Health, identified areas awaiting progress and suggested approaches for accelerating action.
RECENTLY ADDED TOOLS & RESOURCES
Research Briefs & Syntheses
We are pleased to announce an exciting new alliance between Active Living Research and GP RED to co-host and coordinate...

The "Active Living Conference" aims to break down research and practice silos and...
August 14, 2018