Open Streets: A Culture of Health for All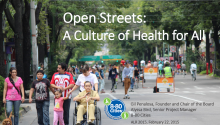 Author:
Gil Peñalosa, MBA, PhDhc & Alyssa Bird, MScPl, 8-80 Cities
Description:
Workshop at the 2015 Active Living Research Annual Conference.
Open Streets are programs where the streets are opened to people and closed to cars. People traffic replaces car traffic, and the streets become "paved parks" where people of all ages, abilities, and social, economic, or ethnic background can come out and improve their health. When implemented correctly, Open Streets are one of the most effective and affordable large-scale health promotion programs any city can undertake.
The success of Open Streets programs is based on the fact that these programs are low-cost, because they use existing resources—the streets—to provide free, safe, and accessible space for play, physical activity and social interaction for people of all ages and abilities. The most promising Open Streets programs are found in Central and South America where thoughtful route designs, such as those in Bogota, Colombia and Guadalajara, Mexico, connect communities of various income level and social need, and can literally bring recreational opportunities and healthy lifestyle opportunities to people's doorsteps.
Although programs, like Bogota's Ciclovia, have inspired the growth of Open Streets in North America few programs have achieved the public health benefits associated with what we call 'Healthiest Practice' programs, like those in Bogota and Guadalajara.  In this workshop, participants were immersed in the central tenets of Healthiest Practice Open Streets programs, the opportunities for improved health and urban quality of life offered by Open Streets, and hopefully were inspired to help push forward an agenda to bring 'Healthiest Practice' Open Streets programs to everyone's doorsteps.
RECENTLY ADDED TOOLS & RESOURCES
Research Briefs & Syntheses
We are pleased to announce an exciting new alliance between Active Living Research and GP RED to co-host and coordinate...

The "Active Living Conference" aims to break down research and practice silos and...
August 14, 2018