Physical Activity Related to Parks and Recreational Programs among Latinos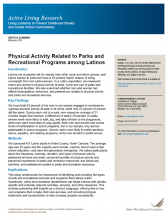 Author:
Jonathan Casper, North Carolina State University
Summary:
The Challenge: Latinos are at greater risk for obesity than other racial and ethnic groups, and Latina women in particular have a 30% higher chance of being overweight than non-Latina women.
Make an impact: Identifying and providing the types of park and recreational services and programs that Latinos prefer is important to increasing physical activity levels and fighting obesity.
What the findings are about: This study measured men's and women's physical activity at work, home and use of parks and recreational facilities, and examined whether men and women had different perceptions, behaviors, and preferences related to physical activity and parks and recreation services.
Key Findings and Recommendations:
Suggested Citations:
Casper, J.M., et al. (2013). Gender Differences in Self-Report Physical Activity and Park and Recreation Facility Use among Latinos in Wake County, North Carolina. Annals of Behavioral Medicine, 45(1Suppl): S49-S54.
RECENTLY ADDED TOOLS & RESOURCES
Research Briefs & Syntheses
We are pleased to announce an exciting new alliance between Active Living Research and GP RED to co-host and coordinate...

The "Active Living Conference" aims to break down research and practice silos and...
August 14, 2018