Point-of-Decision Prompts Increase Walking in a Large Metropolitan Airport: The Walk to Fly Study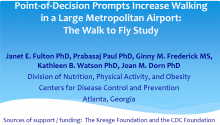 Author:
Janet Fulton, PhD, Centers for Disease Control and Prevention
Description:
Presentation at the 2015 Active Living Research Annual Conference.
Background
Only half of American adults meet the public health guideline for aerobic physical activity. Those who walk for transportation or for leisure are three times more likely to meet the aerobic guideline. Encouraging adults to walk is therefore a viable strategy to increase physical activity levels in the U.S. Point-of-decision prompts are recommended by The Guide to Community Preventive Services as a strategy to increase stair use as one form of physical activity. We found no study that examines the efficacy of point-of-decision prompts to encourage walking instead of using an automated mode of transport, like a train. The Walk to Fly study was designed to develop and implement point-of-decision prompts to encourage walking, rather than riding the train, in a large metropolitan airport, and to evaluate their impact. The findings from this study may help airports and other venues with automated options like people movers, use tested intervention strategies to help people choose to be physically active.
Objectives
The objective of this intervention study is to evaluate, in a large metropolitan airport, the impact of point-of-decision prompts to encourage walking to one's concourse, versus riding the train, by comparing walking before and after installation of the prompts.
Methods
Travelers entering the transportation mall connecting the concourses of the airport may choose to ride the train (operational 4am-midnight), walk, or use a moving walkway, to get to their departure concourses. Six ceiling-mounted infrared sensors automatically count all travelers who enter the transportation mall terminus, and those who walk or use the moving walkway to continue to their concourses. The count of travelers riding the train is the difference between the entry, and the combined walk and walkway sensor counts. Counts are aggregated and logged in 15-minute frames. Any count frame with train ridership below 50% of travelers is suggestive of interruption of train service and is dropped from the analysis. Sensors were validated against manual counts, and reconfigured to register fewer than 5% miscounts.  The point-of-decision prompts were developed through two surveys with probability samples of 517 travelers seated at the boarding areas of the airport. Findings from the surveys showed travelers would be more likely to walk than ride the train if the prompts clearly showed the distance and time to walk to concourses. Sensor counts were analyzed to determine the average number of travelers entering the transportation mall terminus daily and to discern mode choice before and after installation of point-of-decision prompts. A Bayesian time-series analysis was used to estimate counts in the absence of an intervention, which was compared to actual counts to assess impact of the intervention. Analyses were performed using R (version 3.0.2).
Results
Sensor validation was completed on June 14th, 2013. The findings represent 21,127,953 travelers counted from June 15th, 2013 through September 16th, 2014. On average, more than 46,000 travelers entered the transportation mall terminus daily – 99% of them during train operation hours. Point-of-decision prompts were installed on September 4th, 2014. Of travelers who entered when the train was operational, 10.4% walked or used the moving walkway before the prompts were installed, and 11.8% did so after. Taking into account variations in traveler counts over the week and over the year, after the prompts were installed the number of travelers walking or using the moving walkway increased by 18.5%, representing an estimated 833 additional travelers walking or using the moving walkway daily (Table).
Conclusions
Preliminary data obtained at one point-of-decision location at a large metropolitan airport show that, of 46,000 travelers/day, installation of prompts increased the number of travelers walking or using the moving walkway to get to their departure concourse by 18.5% (833 travelers/day) in the first 10 days of the intervention.
Implications
With 17 million travelers per year facing the decision to walk or ride the train at just one location in a large metropolitan airport, this intervention has the potential to increase walking among a large number of air travelers. The findings of the Walk to Fly study can be used to develop and evaluate interventions to promote walking at other airports and as an important component of physical activity promotion in public venues.
Support / Funding Source
The Kresge Foundation and the CDC Foundation.
RECENTLY ADDED TOOLS & RESOURCES
Research Briefs & Syntheses
We are pleased to announce an exciting new alliance between Active Living Research and GP RED to co-host and coordinate...

The "Active Living Conference" aims to break down research and practice silos and...
August 14, 2018