Promoting Physical Activity in Out-of-School Time: Update on the Impact of the National After-school Association Physical Activity Quality Standards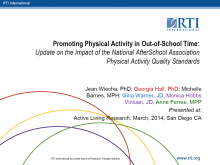 Author:
Jean Wiecha, PhD, Georgia Hall, PhD, Michelle Barnes, MPH, Gina Warner, JD, Anne Ferree, MPP, & Monica Vinluan, JD
Description:
Presentation at the 2014 Active Living Research Annual Conference.
Background and Purpose
The Physical Activity Guidelines for Americans Midcourse Report (1) concluded there was limited evidence that interventions in Out-of-School Time (OST) settings had increased physical activity among children and youth.  Our purpose is to describe national, collaborative efforts to change the physical activity environment in OST by promoting use of the five National Afterschool Association physical activity quality standards (NAA PAQS) (2).  These foster programmatic change that can lead to youth behavior change. The first standard addresses PA content and quality, and four additional standards address program capacity including staff training and social, program, and environmental support.  NAA PAQS resulted from the authors' work to develop science-based PA and healthy eating practice standards by convening the Healthy Out-of-School Time Coalition (HOST), comprised of influential providers, service intermediaries, and researchers (3).  HOST seeks broad dissemination of the NAA standards to promote chronic disease prevention using unified messaging across provider platforms.
Description
We present HOST as a case study of a collaborative convened to promote program and policy change.  We will enumerate activities by HOST members to disseminate NAA PAQS and will describe the role of major national organizations including Alliance for a Healthier Generation, National AfterSchool Association, and YMCA of the USA (Y-USA) in championing the standards. Further, we will report on measurement of NAA PAQS awareness and use at the local level.  In 2013, we developed an online questionnaire to assess OST sites' awareness, adoption, and use of NAA PAQS; implementation of best practices; and organizational capacity.  We piloted the questionnaire among summer programs and will field it for school year programs in October.   In July 2013, NAA emailed members an electronic link on 2 occasions.  To analyze the data, we created summary scores for implementation of each standard (3 to 9 best practice items per score), and one summary score representing organizational capacity (10 items).  Data were collected via SurveyMonkey.  The study received IRB approval.
Lessons Learned
The collaborative leadership process HOST uses has yielded far more impact than a single leader project could have achieved.  The standards have been adopted by major national organizations and the Council on Accreditation. They are the focus of Y-USA's partnership with RWJF/American Heart Association's Voices for Healthy Kids initiative to improve physical activity in OST.  We now have preliminary evidence from the summer survey pilot for local level awareness and impact.  School-year survey data will be available for presentation at ALR.  For the summer survey, NAA sent links to its members (about 5,000; number of summer program operators was unknown). These yielded 71 responses of which 68 were analyzed.   About 70% of respondents were familiar with the NAA PAQS and 47% reported using one or more of them for program planning. We observed several modest but statistically significant associations between respondent characteristics and implementation scores (p<0.05).  Familiarity with the NAA PAQS and intentional use of them was associated with higher scores for two standards (PA content and quality; staff training).  Accredited sites had higher scores on three standards (social support, program support, environmental support).  21st Century Learning Center sites had higher scores for two standards (staff training; program support). Sites that were part of a parent organization (i.e., YMCA) had higher program support scores. Being licensed, an NAA member, and type of facility were not associated with implementation scores.
Organizational capacity to implement the NAA PAQS includes having adequate budget, training, equipment, and staff/parent engagement.  A majority of respondents said that 10 positively framed statements about organizational capacity were true or mostly true.  Organizational capacity scores were positively associated with implementation scores for all five standards, with correlations ranging from 0.5 to 0.7 (p<0.0001).
Conclusions and Implications
The NAA physical activity quality standards show promise as a useful lever for changing physical activity policy in after school, before school, and vacation programs.  Collaborative leadership has been effective in translating science to practice on a national scale.  A pilot online questionnaire provides the first evidence that local sites are familiar with the NAA PAQS and that intentional use of them is associated with modest increments in physical activity quality.  Moreover, the association between organizational capacity score and implementation scores supports the use of translational approaches that focus on building capacity.
Next Steps
Extensive dissemination work by HOST will continue until ALR, and we will report on progress at that time.  Preliminary survey data indicate that tracking uptake at the local level is feasible and informative, and we will discuss plans for periodic monitoring.  Pilot survey limitations include difficulty establishing a nationally representative sampling frame of OST sites, and lack of data on item validity. Improvements to survey administration, including better tracking of denominators and broader distribution of survey links, will yield additional fall 2013 data from a more representative school year sample.  Research on youth behavior change attributable to NAA PAQS is now warranted.
References
Physical Activity Guidelines for Americans Midcourse Report Subcommittee of the President's Council on Fitness, Sports & Nutrition. Physical Activity Guidelines for Americans Midcourse Report: Strategies to Increase Physical Activity Among Youth. Washington, DC: U.S. Department of Health and Human Services, 2012.
http://www.naaweb.org/default.asp?contentID=6723.
Wiecha JL, Hall G, Gannett E, Roth B. Development of Healthy Eating and Physical Activity Quality Standards for Out-of-School Time Programs. Childhood Obesity. 2012; 8 (6): 472-476.
Support / Funding Source
RWJF Active Living Research UCSD contract 38570717.
RECENTLY ADDED TOOLS & RESOURCES
Research Briefs & Syntheses
We are pleased to announce an exciting new alliance between Active Living Research and GP RED to co-host and coordinate...

The "Active Living Conference" aims to break down research and practice silos and...
August 14, 2018