The Relationship between Neighbourhood Socioeconomic Characteristics and Walking for Exercise among Obese and Non-Obese Parents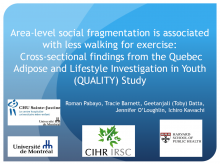 Author:
Roman Pabayo, PhD, Tracie Barnett, PhD, Yan Kesten, PhD, Jennifer O'Loughlin, PhD, Angelo Tremblay, PhD, and Marie Lambert, MD, PhD
Description:
Presentation at the 2012 Active Living Research Annual Conference.
Background
Physically active lifestyles are recommended to help prevent morbidity such as obesity, diabetes, and cardiovascular disease. Walking is an easily accessible opportunity to increase physical activity levels among Canadians. Socio-ecological models of health behavior suggest that the broader environment can influence involvement in physical activity including walking. Area-level conditions such as neighbourhood economic deprivation (a collective measure of average socioeconomic position of populations living within a particular area) and social fragmentation (a collective measure of residential instability) have been shown to be associated with physical activity. However, it is unknown whether associations between area-level socio-economic conditions and walking differ according to obesity status among adults.
Objectives
To investigate relationships between area-level socioeconomic conditions and walking for exercise among obese and non-obese mothers and fathers of the 630 families participating in the Quebec Adipose and Lifestyle Investigation in Youth (QUALITY) Cohort, an ongoing longitudinal study investigating the natural history of obesity in Quebec children.
Methods
Objectives were addressed using baseline data, collected between September 2005 and December 2008, of the QUALITY cohort. Children and their parents were recruited through schools located in Quebec, Canada. Eligibility criteria included that the child was aged 8-10 years; both biological parents were available for the study; at least one biological parent was obese (i.e., BMI of mother and/or father ≥ 30 kg/m2 or waist circumference >102cm in men and >88cm in women based on self-reported weight, height and waist circumference collected at the time of the telephone recruitment interview). All participants were of Caucasian origin to avoid genetic admixture. Data collection procedures included interviewer-administered questionnaires for children, self-administered questionnaires for parents, and biological and physiological measurements for both children and parents. Neighbourhood data collection comprised census data that were linked to participating family addresses. Complete data were available for 630 mothers and 623 fathers. Parents were asked if they participated in walking for exercise (yes; no). The 1000 m circular buffer zone centered on the child's principal address (equivalent to both parents address in 84.3 % of cases) was characterized using 2006 Canada Census. Economic deprivation was defined by a summation score of the proportion unemployed, living on a low household income, and of young adults aged 18-25, adults aged 25 to 65, and elderly over the age 65 without a high school diploma. Social fragmentation was defined as a summation score based on proportion of single families, of those moving within the last 5 years, and of homeowners within the neighbourhood. All analyses controlled for household income, education, age, and population density. The associations between quartiles of economic deprivation and of social fragmentation with the likelihood of walking for exercise were examined in logistic regression models separately for obese and non-obese mothers and fathers. Obesity was defined as indicated above.
Results
Average economic deprivation and social fragmentation scores were 110.8 (SD=27.5) and 3.1 (SD=22.4), respectively. 77.9% and 62.8%, of mothers and fathers respectively reported that they walked for exercise; 43.3% and 50.9% of mothers and fathers respectively were obese. Analyses were stratified by weight status since previous evidence suggests environmental factors may influence physical activity behaviour differently according to weight status. Among obese mothers, those that lived in a neighbourhood with the highest quartile (OR=0.31; 95% CI=0.07, 1.42) and second highest quartile (OR=0.20; 95% CI=0.05,0.79) of social fragmentation were less likely to walk for exercise in comparison to those living in a neighbourhood with the lowest quartile of social fragmentation. Economic deprivation was not found to be associated with walking for exercise among obese mothers. However, obese mothers from the second highest, but not the highest quartile of household income (OR=2.45; 95%=1.04, 5.78) were significantly more likely to walk for exercise in comparison to those living in the lowest quartile. Among obese fathers, those that lived in areas with the second highest, but not the highest quartile of economic deprivation (OR=0.29; 95% CI=0.11, 0.76) were less likely to walk for exercise in comparison to those in the lowest quartile of economic deprivation. Social deprivation was not associated with walking among obese fathers. Neither economic deprivation nor social fragmentation were associated with walking behaviour among non-obese parents.
Conclusions
Area level factors may be particularly important determinants of walking for exercise among obese parents. Social fragmentation seems to be related to obese mothers' walking behaviour while economic deprivation may be more important to walking behaviour of obese fathers. Parents may act as positive role models for their children by leading physically active lifestyles; this may be particularly important in households where family history of obesity places children at greatest risk of subsequent cardio-metabolic conditions.
Support/Funding
Roman Pabayo is a recipient of a Canadian Institutes of Health Research Fellowship award.
RECENTLY ADDED TOOLS & RESOURCES
Research Briefs & Syntheses
We are pleased to announce an exciting new alliance between Active Living Research and GP RED to co-host and coordinate...

The "Active Living Conference" aims to break down research and practice silos and...
August 14, 2018