Road Safety Policy Implementation for Improving Pedestrian Environment: Lessons from France and Sweden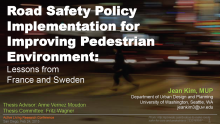 Author:
Jean Kim, Master of Urban Planning, University of Washington
Description:
Presentation at the 2015 Active Living Research Annual Conference.
Background
For more than a decade, efforts to evaluate the impact of the built environment on human health have been central to the planning field. Substantial attention has been devoted to the areas of New Urbanism, Smart Growth, and Active Living to improve health conditions by increasing physical activity. However, crash prevention are becoming more critical, as there are increasing demands to proactively improve pedestrian safety on roads. This research aims to inform policy-makers of the factors that affect pedestrian safety by examining how road safety policies in France and Sweden have substantially reduced the number of pedestrian fatalities and exploring potential implementations for the United States.
Description
Based on the available government documents, published studies, and pedestrian fatality data in European countries, this study explored the French and Swedish approaches of improving general road and pedestrian safety over particular periods: between 2002 and 2005 for the French case, and between 1997 and 2006 for Swedish safety program.
Lessons Learned
In France and Sweden, public officials hold the main responsibility for road safety and undertake rigorous and innovative interventions to improve safety awareness and to reduce pedestrian deaths on roads. In the French road safety program, the primary responsibility for road crashes is on "everyone", including road users, policy-makers, road designers, and other population groups. Less blame is put on road users, and the government took on the main responsibilities for road collisions. This principle of responsibility-share helps alter individuals' attitudes toward road safety. In Sweden, the road system designers hold the main responsibility for traffic safety. When road users violate traffic rules or if any crashes occur, the system designers are required to take any necessary further steps.
Conclusions
A major similarity between the two nations' programs was the emphasis on improving the traffic safety culture of the society, particularly by shifting the responsibility of road safety from road users to decision-makers. However, France focused more on improving road behavior through campaigns and education programs. In comparison, Sweden focused more on improving error-tolerant roadway design combined with stricter road enforcement by heavily placing road safety responsibility on road system designers. The findings suggest that the strategies from the cases of France and Sweden can potentially be modified and implemented in the United States. It is true that the U.S. is a much larger country than France and Sweden, and most cities in the U.S. were designed to encourage auto-oriented development over the decades, while those two European countries were not. Also, land use patterns, traffic systems, and the policy-making process among the countries are different. However, in general, the implementation of new safety interventions in the U.S. should involve raising awareness among the public and encouraging policy-makers to more effectively improve walking environments. All in all, legitimate road safety interventions must be consistent with the overall goals for the transportation planning system.
Next Steps
Along these lines, further research on how planners and professionals in other fields, including architecture, public health, and public policy, can support pedestrian safety should be carried out. Today, in the U.S., pedestrian safety is considered a transportation and public health problem, however, safety components should be addressed along with land-use, design, and policy issues. Therefore, future research is needed that examines how planners, safety program coordinators, and other policy-makers can help raise the salience of pedestrian safety and shift the balance of responsibility to reflect experts' roles in system risk.
References
Ewing, R., and E. Dumbaugh. 2009. "The Built Environment and Traffic Safety: A Review of Empirical Evidence." Journal of Planning Literature 23 (4) (May 21): 347–367.
Gerondeau, Christian. 2006. "Road Safety in France: Reflections on Three Decades of Road Safety Policy." FIA Foundation for the Automobile and Society.
Whitelegg, John, and Gary Haq. 2006. "VISION ZERO: Adopting a Target of Zero for Road Traffic Fatalities and Serious Injuries". Stockholm Environment Institute.
Zegeer, Charlie, William Hunter, Loren Staplin, Fran Bents, Richard Huey, and Janet Barlow. 2010. "White Papers for 'Toward Zero Deaths', A National Strategy on Highway Safety: 5. Safer Vulnerable Road Users : Pedestrians , Bicyclists , Motorcyclists , and Older Users". Washington, D.C.
RECENTLY ADDED TOOLS & RESOURCES
Research Briefs & Syntheses
We are pleased to announce an exciting new alliance between Active Living Research and GP RED to co-host and coordinate...

The "Active Living Conference" aims to break down research and practice silos and...
August 14, 2018