Systematic Observation of Physical Activity and Its Contexts - 2015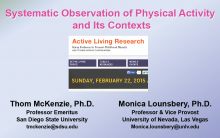 Author:
Thomas McKenzie, PhD, San Diego State University; Monica Lounsbery, PhD, University of Nevada, Las Vegas
Description:
Workshop at the 2015 Active Living Research Annual Conference.
Park, recreation, and school settings are viable locations for physical activity accrual, but investigations of physical activity and associated variables in these "open" environments have been challenging because the number and type of users and their activity levels are highly variable and the setting characteristics change often. We have designed, tested, and validated several systematic observation tools (e.g., SOFIT, SOPLAY, SOPARC, SOPARNA) that permit the assessment of physical activity in various locations while simultaneously providing contextually-rich data on the environment. These tools have the advantages of flexibility, high internal validity, low inference, and low subject burden. Nonetheless, they have disadvantages including personnel costs, need for observer training and recalibration, inaccessibility to certain environments, and potential subject reactivity. The workshop uses PowerPoint presentations and video examples to reach the objectives. Discussion includes an overview of recent innovations (e.g., free RAND website for data entry and analysis; apps for IPADS), definitions of behavioral categories, protocols for use (e.g., pacing of observations), coding conventions (i.e., interpretations of common scenarios), observation techniques (e.g., duration, frequency, interval, and time-sampling recording), observer training and recalibration, inter-observer reliability, subject reactivity, activity level validation, and practical issues.
RECENTLY ADDED TOOLS & RESOURCES
Research Briefs & Syntheses
We are pleased to announce an exciting new alliance between Active Living Research and GP RED to co-host and coordinate...

The "Active Living Conference" aims to break down research and practice silos and...
August 14, 2018