Time to Play: Increasing Physical Activity through a Mandatory Daily Active Recess Policy in New York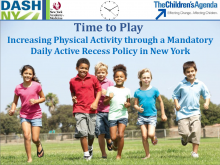 Author:
Rachel Manes, MS, MPhil, Monica Chierici, MPA, & Rachel Pickering, BS
Description:
Presentation at the 2014 Active Living Research Annual Conference.
Background and Purpose
The American Academy of Pediatrics and U.S. Department of Health and Human Services Physical Activity Guidelines encourage 60 minutes of daily physical activity for elementary school children.  This amount of daily physical activity helps reduce the risk of obesity, promotes academic performance and mental ability, and also provides social benefits.  Yet, many children across the United States and New York State, in particular, are not taking part in the recommended 60 minutes of daily physical activity.  To help meet this recommendation, the DASH-NY Obesity Prevention Coalition produced a Mandatory Daily Active Recess Policy Implementation Guide as an informational resource for parents, teachers, school officials, and physical activity advocates interested in increasing physical activity among students in K-5.  A mandatory daily active recess policy presents the opportunity to provide daily physical activity for up to 20 minutes and establishes recess as a time for students to engage in physically active free play or structured games.  The policy guide can help physical activity advocates build interest and educate stakeholders on the benefits of recess as well as assist in each step of planning and implementing a daily active recess policy at elementary schools.
Description
This presentation describes how a mandatory daily active recess policy can help reduce disparities among racially and ethnically diverse populations of children and those living in lower-income communities at greatest risk for obesity.  Schools with more than a 50 percent minority enrollment or in the lowest income levels on average participate in the fewest minutes of recess (RWJF, 2007).  However, implementing a policy like mandatory daily active recess ensures that all students will have the opportunity to reap the benefits of daily physical activity.  A survey of 40 elementary schools across Rochester, NY indicated that schools with mostly low income students of color were less likely to have a policy around daily recess than suburban schools resulting in decreased recess participation for children living in Rochester (Healthi Kids, 2010).  Creating partnerships with organizations from outside the school district helped to educate and convene stakeholders around support for a mandatory daily active recess policy in the City of Rochester.  As a result, the Rochester Public School District amended their school district's wellness policy to include such a policy which went effect during the 2012-2013 school year.
Lessons Learned
Piloting the policy in two schools before implementing it district-wide for 34,000 children allowed the district to address barriers to implementation on a smaller scale. Before policy implementation, schools had greater difficulty ensuring that recess facilitated active play and structured games when it was held indoors because of bad weather than when it was held outdoors.  Therefore, elementary schools were advised to create an additional building-level policy that detailing how mandatory daily active recess will be achieved in a variety of contingency situations.  Creative solutions were put in place and utilized by Rochester schools in the event that outdoor recess had to be cancelled – ranging from 10 minutes of indoor physical activity at the beginning of the day to having classroom teachers incorporate movement into classroom lessons.  After policy implementation, school staff needed guidance on how to supervise recess, with a particular focus on conflict resolution. This barrier was addressed through trainings for school staff and by providing curriculum resources. Playworks, a national organization that promotes recess supervision, is one such group that can also lend support by providing coaches who resolve conflicts that arise on the playground and encourage cooperative free play.
Conclusions and Implications
Mandatory daily active recess is a relatively easy, low cost solution to meeting physical activity guidelines for children and can account for as much as one third of their recommended daily physical activity (RWJF, 2007).  Implementing a mandatory daily active recess policy is an ongoing effort that engages many stakeholders throughout the process.  These advocates range from school officials and parent-teacher organizations to community organizations and even representatives of the local government who form partnerships in support of this policy. Ultimately, the implementation of mandatory daily active recess is a collaborative process that will continue to engage many stakeholders from both within and outside of schools across the state of New York.
Next Steps
Further research should identify activities that best support policy implementation and evaluate the extent to which this policy leads to improved health outcomes for elementary school children.  Longitudinal research can determine if a mandatory daily active recess policy leads to improved health outcomes during adolescence.
References
Robert Wood Johnson Foundation. 2007. Recess Rules. Princeton, NJ.
Healthi Kids. 2010. Recess Report 2010. Rochester, NY: Finger Lakes Health Systems Agency.
DASH-NY. 2013. Time to Play: Improving Health and Academics through Recess in New York Elementary Schools. A Mandatory Daily Active Recess Policy Implementation Guide. New York, NY: New York Academy of Medicine.
Support / Funding Source
With funding from the New York State Department of Health, DASH-NY serves as New York State's Obesity Prevention Policy Center.
RECENTLY ADDED TOOLS & RESOURCES
Research Briefs & Syntheses
We are pleased to announce an exciting new alliance between Active Living Research and GP RED to co-host and coordinate...

The "Active Living Conference" aims to break down research and practice silos and...
August 14, 2018