Understanding Barriers to Bicycling in Low-Income Communities of Color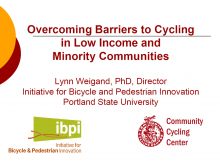 Author:
Lynn Weigand, PhD
Description:
Presentation at the 2012 Active Living Research Annual Conference.
Background
Bicycling is a form of transportation with numerous health, economic and environmental benefits. However, in many communities the benefits of bicycle transportation are not accessible to all residents. For low-income and communities of color, the lack of safe places to ride in their neighborhoods, unequal representation in transportation project planning and unequal financial burdens prevent equal access to cycling and its benefits.  In 2009, the city of Portland published an analysis of the bikeway distribution that showed the network was weakest where the highest percentages of people of color resided.
Objectives
This project was initiated by the Community Cycling Center (CCC) in Portland to determine the degree of interest in bicycling among low-income communities and communities of color and the factors that interfere with the choice to ride. The CCC partnered with Portland State University's Initiative for Bicycle and Pedestrian Innovation (IBPI) to on research methods and data analysis. The goals for the project included:
Identifying barriers and opportunities among the "interested but concerned" residents that represented low-income communities of African-Americans, Latinos and African immigrants;
Designing a pilot program to address culturally-specific barriers to bicycling and build skills, knowledge and confidence among diverse participants to increase bicycle ridership and reduce trips by car; and
Increasing awareness and raising acceptability of bicycling as a mode of transportation in diverse communities.
Methods
In August, 2009, the CCC and IBPI participated in six neighborhood events to gauge the community's interest in cycling and collected 148 surveys. In the fall, the CCC worked with staff at two affordable housing providers to organize the hold five culturally-specific focus groups with participation from 49 residents. Participants were asked to discuss their views about cycling and identify factors that prevented them from riding a bicycle. Two focus groups were held in Spanish for Latino residents, two in English with translation for Somali residents, and one in English for African-American residents.
Results
Results indicated that 52% of respondents used a bicycle for short trips, running errands, visiting friends, and for exercise/recreation. The most common barriers to cycling were cost, riding and safety concerns. Cost issues included the cost of purchasing and repairing a bike (due to lack of knowledge to fix their own bicycle). Riding issues included lack of knowledge of safe places to ride away from traffic and never learning to ride a bicycle. There was interest among Latino and Somali women in learning to ride a bicycle so they could ride with their children. Safety concerns were categorized into three areas: personal safety (fear of being pulled over by police, not feeling safe in the neighborhood), traffic safety, and safety of their bicycles (from theft and vandalism).
Conclusions
Based on the findings from this study, the CCC has made recommendations to pilot tailored programs for specific cultural groups and neighborhoods. In addition, they are including leadership in bicycle programs and shop operations to build capacity in low-income and communities of color, and developing community-based strategies to influence polices that address environmental change and other social determinants of health to ensure equitable access to bicycling for transportation and recreation.
Support/Funding
Metro's Regional Transportation Options Program (Metro is the regional governmental authority in the greater Portland, Oregon area.)
RECENTLY ADDED TOOLS & RESOURCES
Research Briefs & Syntheses
We are pleased to announce an exciting new alliance between Active Living Research and GP RED to co-host and coordinate...

The "Active Living Conference" aims to break down research and practice silos and...
August 14, 2018