The Use of FORECAST to Develop an Ecological Intervention for Walking in Underserved Communities in the PATH Trial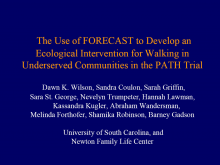 Author:
Dawn K. Wilson, PhD, Sandra Coulon, BS, Sarah Griffin, PhD, Sara St. George, MA, Nevelyn Trumpeter, MS, Hannah Lawman, MA, Kassandra Kugler, BA, Abraham Wandersman, PhD, Melinda Forthofer, PhD, and Shamika Robinson, MHA
Description:
Presentation at the 2012 Active Living Research Annual Conference.
Background
African Americans have among the highest rates of obesity and related chronic diseases in the United States. Programs which aim to reduce these rates by increasing physical activity (PA) can be better developed through the application of theory-based evaluation methods. Process evaluation methods based on the Formative Evaluation, Consultation, and Systems Technique (FORECAST) that integrate community-based feedback were used in the present trial.  FORECAST is a theory-based, formative method designed to facilitate initial and on-going program development, planning, and implementation. The FORECAST approach in the present trial was grounded in social ecological theory and may serve as a model for developing and evaluating future intervention programs that aim to increase walking in low income, minority communities. The FORECAST method was used in the present study to guide ongoing program development that integrated contextually and culturally relevant program elements base on community input. Thus, the purpose of this study is to present the framework and results of the participatory FORECAST process evaluation methods used in the Positive Action for Today's Health (PATH) trial for increasing PA in underserved communities.
Objectives
To present a unique process evaluation model (FORECAST) for developing community-based participatory interventions for promoting walking in African American communities.
To present data that demonstrates how the FORECAST is used to shape and develop a program to address concerns of safety, access, and community connectedness based on community input.
Methods
Process evaluation methods based on FORECAST and community feedback were used to develop the theory-based intervention of the Positive Action for Today's Health (PATH) trial for increasing walking in African American underserved communities. The PATH walking intervention program was develop based on ecological theory and targeted essential elements that focused improving safety, access, and community connectedness for walking. Three underserved communities were randomized to either: a police-patrolled walking plus social marketing program, a police-patrolled walking only program, or a general health education program (comparison). Within the walking programs FORECAST was adopted to ensure that program delivery and goals based essential elements were adapted over time to reflect contextual changes. FORECAST ensures this by providing a framework which requires intervention efforts to be: (1) evaluated through ongoing and dynamic processes, (2) the result of collaborative processes, (3) driven by realistic and clear theoretical models of the problems and solutions and measurable evaluation and outcome expectations, (4) guided by ongoing program development, and (5) evaluated based on their processes and public health impact. Data were collected, synthesized and interpreted using a multi-method, multi-informant approach that relied on feedback mechanisms and community input.
Results
Use of FORECAST method facilitated ongoing program development by indicating that changes to program delivery and goals were necessary to maintain contextual and cultural relevance of the walking programs. Essential elements of the program including targeting personal safety, social norms for walking and support by others in the neighborhood, social and physical environmental elements such as trail safety and aesthetics, and community elements such as collaboration with a neighborhood-based hub organization were adapted over time based on evaluative data and community feedback. In addition, the community steering committee developed a grassroots strategy that relied on "Pride Strides", walks led by trained neighborhood residents, community leaders, or local organizations. As the program developed, Walking Leaders and walkers noted that 10 monthly Pride Strides were feasible, and that engaging local organizations to lead Pride Strides would help to promote the program. A final adaptation based on participatory feedback and FORECAST data was to build an infrastructure for formally and consistently including churches in the program and its Pride Strides. "Church Challenge" walks were planned to encourage local churches to compete and demonstrate a strong commitment to health by walking frequently with the program. As a result, participation and engagement of new walkers increased dramatically and the program managed to maintain high levels of participation during summer months, despite peak temperatures. Other areas of program infrastructure development involved building positive and lasting relationships with off duty police officers, maintaining the quality of the trial with county support, and addressing issues of stray dogs and on-going safety (drug dealers, crime) with county officials. Data will be presented showing that the police patrolled plus social marketing program significantly enhanced program participation from baseline to 12 months into the intervention.
Conclusions
Evaluation methods based on FORECAST were effective in developing a community-based walking intervention that matched the community needs in relation to promoting safety, access and social connectedness. The FORECAST approach may be more broadly adopted as a model for development and adaptation of community-based strategies for increasing walking and reducing obesity in low-income minority communities nationally.
Support/Funding
This work was supported by a grant (R01 DK067615) from the National Institutes of Diabetes, Digestive, and Kidney diseases to Dawn K. Wilson, PhD.
RECENTLY ADDED TOOLS & RESOURCES
Research Briefs & Syntheses
We are pleased to announce an exciting new alliance between Active Living Research and GP RED to co-host and coordinate...

The "Active Living Conference" aims to break down research and practice silos and...
August 14, 2018