Using Technology to Better Assess Active Commuting and Sedentary Behavior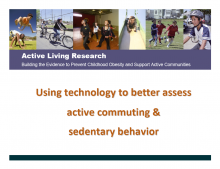 Author:
Simon Marshall, Ph.D., University of California, San Diego; Jasper Schipperijn, Ph.D., University of Southern Denmark; Charlie Foster, Ph.D., University of Oxford, England; Jacqueline Kerr, Ph.D., University of California, San Diego
Description:
Workshop at the 2012 Active Living Research Annual Conference.
his three hour workshop allowed participants to learn about two devices that can help improve measurement of travel behavior, sedentary behavior and the contexts in which they occur.  The workshop focused on GPS devices that can assess travel mode and locations and the SenseCam which is a person worn camera that captures images which can then be coded to ascertain behaviors, built environments and social context.
In part 1 of the workshop presenters introduced the devices, described their research applications, and presented some sample data. In part 2, they taught participants how to use the devices in a research setting, addressing participant compliance issues, device set up and downloads, and IRB issues. Participants wore the devices to collect test data. Part 3 of the workshop focused on processing data, worked examples and participant hands on experience with two programs designed to process GPS data (PALMS) and SenseCam data (Clarity). Part 4 addressed some of the practicalities of purchasing devices, developing pilot projects and writing grants that include these new technologies to improve measurement of active travel and sedentary behavior.
Learning Objectives:
Explain why technologies like the SenseCam and GPS can improve our ability to measure active commuting and sedentary behaviors and why this is also important for interventions.
Identify basic skills needed to conduct a study using these devices.
Demonstrate core skills related to using these devices in future studies.
RECENTLY ADDED TOOLS & RESOURCES
Research Briefs & Syntheses
We are pleased to announce an exciting new alliance between Active Living Research and GP RED to co-host and coordinate...

The "Active Living Conference" aims to break down research and practice silos and...
August 14, 2018