Where Are Families Active Together?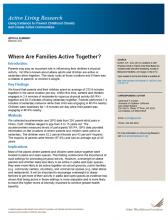 Author:
Genevieve Dunton, University of Southern California
Summary:
The Challenge: Little is known about where adults and children are active or sedentary when together.
Make an impact: Understanding where families engage in physical activity together is important in preventing obesity.
What the findings are about: This study used accelerometer and GPS data to examine where families are active together and to determine if there was a relation to parents' or children's weight.
Key Findings and Recommendations:
Suggested Citations:
Dunton, G.F., et al. (2013). Locations of Joint Physical Activity in Parent-Child Pairs Based on Accelerometer and GPS Monitoring. Annals of Behavioral Medicine, 45(1Suppl): S162-S172.
RECENTLY ADDED TOOLS & RESOURCES
Research Briefs & Syntheses
We are pleased to announce an exciting new alliance between Active Living Research and GP RED to co-host and coordinate...

The "Active Living Conference" aims to break down research and practice silos and...
August 14, 2018