Youth Advocacy for Policy, Systems, and Environmental Changes for Healthy Eating/Active Living: Pilot Evaluation of the Healthy Young People Empowerment Project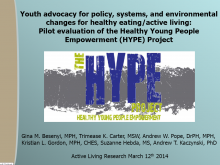 Author:
Gina Besenyi, MPH, Trimease Carter, MSW, Andrew Pope, DrPH, MPH, Kristian Gordon, MPH, CHES, Suzanne Hebda, MS, & Andrew Kaczynski, PhD
Description:
Presentation at the 2014 Active Living Research Annual Conference.
Background and Purpose
Modifying community policies, systems, and environments (PSE) are promising strategies for combatting population-level obesity concerns. Creating communities conducive to healthy eating/active living (HE/AL) will require engaging multiple constituencies [1] and youth voices can be especially powerful in influencing the priorities and decisions of policymakers [2]. Indeed, youth advocacy for obesity prevention has been called the next wave of social change for health [3]. However, few published studies illustrate the implementation or evaluation of initiatives designed to engage youth in PSE change for HE/AL. This abstract describes the evaluation of the Healthy Young People Empowerment (HYPE) Project, including preliminary outcomes and lessons learned from three pilot communities.
Description
The HYPE Project was developed to enhance the capacity of adolescents (12-17, especially from low income and minority backgrounds) to plan and implement PSE change projects centered around community HE/AL needs. HYPE was guided by the MATCH model of health promotion [4] as well as empowerment/positive youth development theories within a social ecological framework [3,5,6]. The HYPE Project consists of facilitator-led, 60-minute sessions through five progressive stages (Think, Learn, Act, Share, Evaluate) and culminates in a youth-led community PSE change project.
In 2012-2013, a total of 45 youth from three counties in South Carolina participated in the pilot year of HYPE. Throughout the five phases of HYPE, youth groups engaged in several major activities that developed individual and group skills and facilitated advocacy efforts. These included: identification of community PSE concerns via Photovoice [7], an environmental audit, development of an action plan, establishing relationships (e.g., with agencies, media, adults), and advocacy for implementation of their project.
Process and outcome evaluation included a curriculum content review by an advisory board (e.g., structure and content, appropriateness for age, race/ethnicity, and readability) and monthly facilitator reports (e.g., attendance, content covered). Additionally, trained researchers conducted focus groups and informal discussions with youth, observations of HYPE sessions, and surveys and interviews with adult facilitators. A lead evaluator and two trained researchers conducted a qualitative analysis of all data.
Lessons Learned
The youth groups in the three pilot communities each achieved success to varying degrees. In one community, youth created a detailed plan for improving amenities in a local park (e.g., restroom cleanliness, drinking water, safety), but struggled to achieve changes due to limited communication response from city officials. In a second community, youth advocated for healthier food choices at a local sports complex, but met with resistance from facility management for implementing changes. Finally, youth in the third community successfully advocated and acquired approval for the addition of a walking trail and bike racks in their local park.
Experiences with these initial groups provided numerous lessons that can inform future iterations of the HYPE Project. A major lesson learned regarding youth empowerment was the importance of recognizing and respecting diversity in youth knowledge and interest for PSE change and HE/AL, at both the individual and group level. For example, focus groups indicated that some youth were excited and ready to participate in community change whereas others were still learning about and satisfied to experience positive changes in personal health (including weight loss). As well, researcher observations regarding the reasons youth groups were together (e.g., existing afterschool program vs. purposeful HYPE group) affected how focused the youth were on making HE/AL PSE changes. Likewise, making the curriculum youth-oriented, interactive, and relevant was seen as key to achieving youth engagement and action. For instance, discussions with youth revealed that those who participated in observations, interviews, and assessments within their communities were more likely to report feelings of empowerment. Further, adult facilitators and their HE/AL PSE knowledge and competency, relationships with youth, and capacity to foster group cohesion were vital for youth engagement and successful advocacy efforts. For example, interviews with adult advisors indicated that familiarity with curriculum concepts and working with children allowed them to be flexible and adapt the curriculum to fit the preferences of the youth, thereby creating youth ownership and accountability for their HYPE projects. Finally, given the nature of resistance met by youth groups during advocacy attempts, educating community members and decision-makers may be essential before youth are seen as viable PSE change agents.
Conclusions and Implications
The HYPE Project and similar youth empowerment initiatives across the U.S. provide a sustainable vehicle for realizing long-term changes to policies and environments that promote HE/AL. Better understanding ways to develop youth into community resources for PSE change can inform interventions aimed at improving community environments and reducing obesity.
Next Steps
Lessons learned from this pilot year will be used to revise the HYPE curriculum. The next round of six youth groups will begin HYPE in Fall 2013, with a goal of achieving 30 HYPE groups across South Carolina by 2015. Rigorous evaluation efforts will explore outcome measures related to youth capacity (awareness, skills, empowerment, self-efficacy) and community change (improved policymaker attitudes and intentions, PSE modifications).
References
Sallis, J. F., Cervero, R., Ascher, W. W., Henderson, K., Kraft, M.K., & Kerr, J. (2006). An ecological approach to creating active living communities. Annual Review of Public Health, 27, 297-322.
Checkoway, B., Allison, T., Montoya, C. (2005). Youth participation in public policy at the municipal level. Children and Youth Services Review, 27, 1149-1162.
Millstein., R. A., & Sallis, J. F. (2011). Youth advocacy for obesity prevention: The next wave of social change for health. Translational Behavioral Medicine, 1, 497-505.
Simons-Morton, D.G., Simons-Morton, B.G., Parcel, G.S., BnnkerJ.F. (1988). Influencing personal and environmental conditions for community health: a multilevel intervention model. Family and Community Health 1988;11:25-35.
Blum, R.W. (2003). Positive youth development: A strategy for improving health. In F. Jacobs, D. Wertlieb, & R. M. Lerner (Vol. Eds.), Enhancing the life chances of youth and families: Public service systems and public policy perspectives: Vol. 2. Handbook of applied developmental science: Promoting positive child, adolescent, and family development through research, policies, and programs (pp. 237-252). Thousand Oaks, CA: Sage.
McLeroy, K.R., Bibeau, D., Steckler, A., Glanz, K. (1988). An ecological perspective on health promotion programs. Health Educ Behav, 15(4), 351-377.
Wang, C., Burris, M.A. (1997). Photovoice: Concept, methodology, and use for participatory needs assessment. Health Edu Behav, 24(3), 369-387.
Support / Funding Source
This project was administered by the Healthy South Carolina Initiative through funds awarded by the CDC as part of the national Community Transformation Grants program.
RECENTLY ADDED TOOLS & RESOURCES
Research Briefs & Syntheses
We are pleased to announce an exciting new alliance between Active Living Research and GP RED to co-host and coordinate...

The "Active Living Conference" aims to break down research and practice silos and...
August 14, 2018