Active Kids Do Better: A Closer Look at Let's Move! Active Schools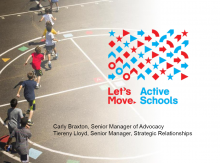 Author:
Tiereny V. Lloyd, MPH & Carly Braxton
Description:
Workshop at the 2014 Active Living Research Annual Conference.
Children today are the most sedentary generation in American's history; only 1 in 3 children are active on a daily basis. Schools are uniquely positioned to address the childhood obesity and physical inactivity epidemic. Let's Move! Active Schools (LMAS) is a comprehensive program that empowers parents and schools to create active environments for students. 
This workshop: 1) Developed an understanding that active kids do better! There is substantial evidence that physical activity can help improve academic achievement, including grades and standardized test scores; physical activity can have an impact on cognitive skills and attitudes and academic behavior (including enhanced concentration, attention, and improved classroom behavior). 2) Developed an appreciation for creating positive experiences for kids in sport and physical activity and integrating physical activity into daily lives. Parents, school boards, school administrators, and teachers can feel confident that maintaining or increasing time dedicated for physical activity during the school day will not have a negative impact on academic performance. 3) Developed a case for how important policy is for codifying, sustaining and providing accountability for efforts to infuse physical activity into the school setting. Strong policy and accountability measures are imperative to implement and sustain a culture change in the school environment.
RECENTLY ADDED TOOLS & RESOURCES
Research Briefs & Syntheses
The 2020 Active Living Conference will be held February 2-5, 2020 in Orlando, FL, USA.
Visit the official...

The "Active Living Conference" aims to break down research and practice silos and...
August 14, 2018